A few weeks ago, I told you that ThinkFun was doing something exciting and disruptive in the toy industry and today's the big day- the designs for their Maker Studio Construction Sets are now available for free on MakerBot's Thingiverse. Thingiverse is the world's largest 3D design community, offering digital designs for real-world objects.
Thinkfun is celebrating with a #STEMchat on unleashing and inspiring the engineer in every child.
Designing, building, thinking both creatively and critically are key parts of the engineering process. Join us for #STEMchat as we share ideas and resources for creating a home, club or classroom that fosters those things. What messages or activities tend to pique the interest of girls? How do we improve access to materials for all children? Share your thoughts on June 30.
ThinkFun is also celebrating their partnership with MakerBot with the #KidsMakeIt Challenge. Kids enter by sharing a photo or video of their Maker Studio creations on Twitter or Instagram (or via Mom or Dad's account if under 13) with the hashtag #KidsMakeIt from now through July 14. Click here for prize info and official contest rules.
In addition, the brand that puts the fun into all sorts of thinking puzzles and games plans to work their magic on our chat in the form of prizes! Help your kids with the #SummerSoar and the chance to win the most addictively fun games that promise to sharpen your mind, including Maker Studio Gears Set, Compose Yourself, and Code Master.

#STEMchat will take place on Tuesday, 6/30, from 9 – 10 PM Eastern.
Our panel will consist of some of the most interesting makers and engineers I'm proud to know.
@ThinkFun, our sponsor, creators of addictively fun games that sharpen minds.
@FPThomas, Parker Thomas, is the co-creator of Maker Studio Construction Sets.
@DIYGirls, Luz Rivas, is an engineer, educator, entrepreneur and force for social good. I profiled her for STEM Girl Friday. She's also one half of the brains behind the monthly hands-on maker kit subscription box, KitHub (which I reviewed here).
@ILikeToMakeStuf, Bob Clagett, is a guy who really likes to make stuff. Sometimes with his kids. He's also a blogger, YouTuber, and podcaster.
@Tara, Tara Tiger Brown, is social entrepreneur, technologist, innovator and mom whose accomplishments include co-founding the family-friendly LA Makerspace and, the other half of the brains behind KitHub.
And me, @KimMoldofsky, also known as The Maker Mom and founder of #STEMchat. Occasionally tweeting from @TheMakerMom and @STEMchat.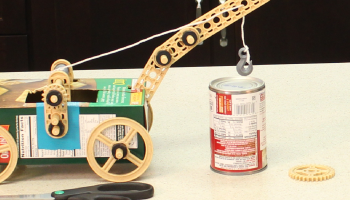 Spread the news to your STEM-loving friends and colleagues. Share the #STEMchat joy with these sample tweets!
*Join me for #STEMchat on Twitter 6/30 at 9 PM Eastern to talk #Engineering with @ThinkFun http://tinyurl.com/ThinkFunSTEMchat
*Great prizes from @ThinkFun at #STEMchat on Twitter 6/30 at 9 PM Eastern #KidsMakeIt http://tinyurl.com/ThinkFunSTEMchat
*Join me for #STEMchat with @KimMoldofsky and @ThinkFun on Twitter 6/30 at 9 PM Eastern! http://tinyurl.com/ThinkFunSTEMchat
Sign up here to receive a free email reminder about #STEMchat the day before our chats, as well as news from The Maker Mom.
*Full disclosure, I recently reviewed ThinkFun's Maker Studio Gears Kit and I have a guest reviewer who is writing about another of the brand's new products, but the reviews were not sponsored. I was sent products for review, but was unaware that I'd have the chance to work with them.