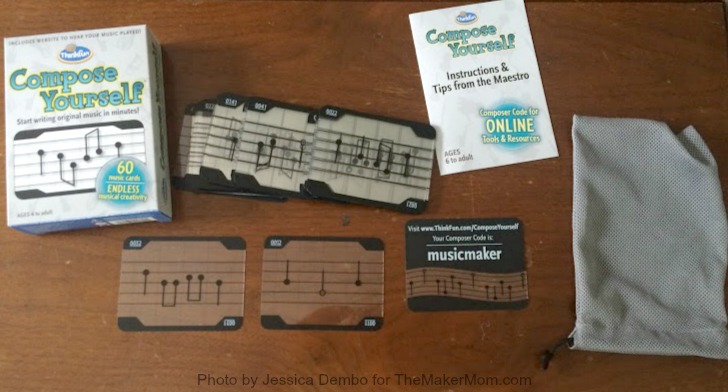 My teen boys have aged out of some of the interesting new items I get offered for review, so I'm relying on trusted friends and readers to help me out. This review comes courtesy of Jessica Dembo; you can read more about her family below. ThinkFun is known for some really cool games, such as one of my kid's favorites, Robot Turtles (affiliate link).  Compose Yourself is their newest game. We played this morning and both my 8 & 4 year old loved it.  It's very easy to put together amazing musical compositions by picking out cards.
Compose Yourself by ThinkFun
When you open up the package for Compose Yourself, you'll find a handy dandy carrying sack, an instruction book and 60 translucent cards. After unpacking the set, visit the game's landing page on ThinkFun and enter the code that comes with the game.
You can immediately start composing music once you log in. You name your composition (my kids wanted to listen to each piece before naming it) and add the composer's name. Each card has a number assigned to it and shows all the notes for that section. You pick out between 4 to 16 cards and add the number associated with each card into the designated area on the website. Push play and voila! You've created something amazing. You can see this play out in the video below.
My kids thought it was cool that they could play the composition created as a solo Marimba arrangement, Orchestral piece or both together. They went back and forth on the selection depending on the way each one sounded.
When you're finished composing, you can download it as an MP3 or share it via Facebook, twitter, etc. That was something my kids really liked. We have listed to their composition,"At the Beach," many, many times this morning.
Compose Yourself also allows you to print out the sheet music and play it on your own instrument. My kids aren't there yet, but I can see how this would be awesome for a musical kid or an adult that wants to create their own music.
We found it a little frustrating that we couldn't save a composition to edit later–maybe they will add that feature to a future edition.
Also, maybe because we can't read music, we found the cards to be of little more use than providing the numbers. Maybe over time we'd start to see the connections. Still, it might make sense to have a drag and drop feature on the website that doesn't require cards.
All in all, the whole family enjoyed playing with Compose Yourself.  Though younger than the recommended minimum age of 6, our 4-year-old was able to create her own music, name it and dance to it within about 4 minutes.
Compose Yourself comes with 60 cards, (2 each of 30 unique cards) and retails for $19.99. This product was provided to us for review.
Read The Maker Mom's recent review of ThinkFun's new Maker Studio line.
Jessica and Steve Dembo's kids are just about the age mine were when I first started blogging (sniff). The Dembos are a curious, adventurous, maker-minded Chicago-area family. Join me in welcoming them to The Maker Mom blog.