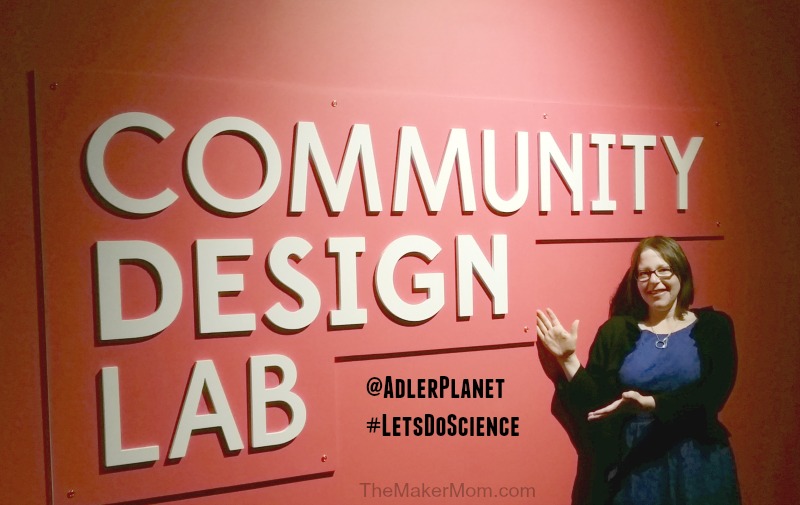 I got a sneak peek chance to play at the Adler Planetarium's new Community Design Lab. You'll be able to visit starting Sunday, June 7. After an orientation to the new makerspace, which I'll explain below, I got busy designing and redesigning a payload structure. After its "missions" were complete, I quickly turned to making a new one and testing it out. And then I looked around to realize that all of the other media folks had cleared out. A quick glance at my watch confirmed the press event wasn't over, at least not officially. Where did everyone go?
Okay, so maybe the Community Design Lab isn't everyone's idea of a great time, but it was mine. And if my boys were younger, I'm pretty sure they would beg to spend most of our visit to the Adler in the Community Design Lab.
Adler Planetarium Community Design Lab (CDL)
The CDL is a temporary hands-on creative space that invites both curiosity and action, letting makers of all ages build and test their ideas. The space was designed with the help of 14 students from Illinois Tech.
Photos from 85 years of community involvement fill the hallway leading to the CDL. Adler was engaging with citizen scientists decades before Zooniverse was a thing. They also have a long history of facilitating DIY science. Before we had kids, my husband actually built his own telescope through a class at the Adler Planetarium. He hand ground the lens and everything.
The CDL is an inviting room filled with curves. It's got works tables and plenty of supplies. There's a set of  brightly colored cubbies filled with duct tape, cardboard tubes, string, popsicle sticks, marshmallows, shaving cream, balloons, popsicles sticks, and, of course, safety goggles. The collection is a good reminder of something I often advise parents- you don't need to go high-tech to have a great makerspace.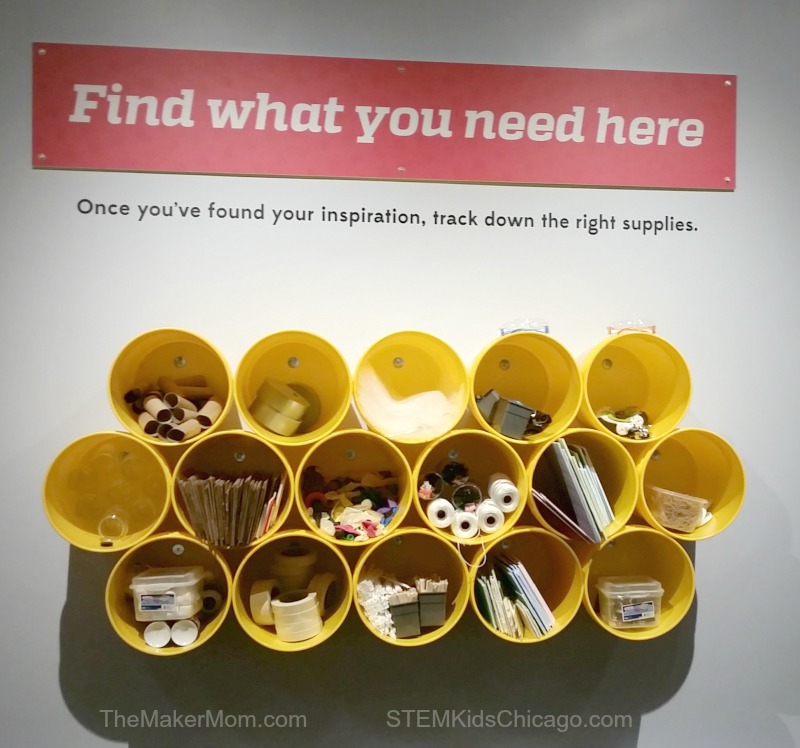 There's also space to show off projects (though I'm pretty sure you can take them home if you wish). And the CLD has a spot to leave questions or ideas for future space experiments.
There are signs throughout the room posing questions, like can a marshmallow survive the vacuum of space? No spoiler alerts here. You have to try it for yourself.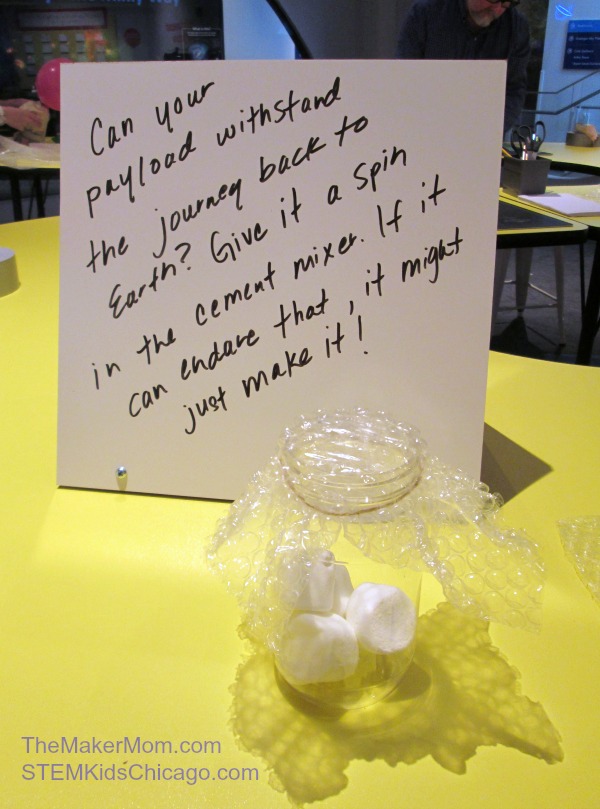 There's a vacuum chamber on site to help visiting scientists test out their theories. And a cement mixer to simulate the bumpy re-entry into Earth's atmosphere. My payloads survived both.
The CDL is more than a place ask questions about science, it's a place to answer them.
Your kids will be fascinated by the vacuum chamber. At some point they will likely cross the line from not wanting their payload to explode to delighting when it happens. Or vice versa.
I think the space will be a hit. However, I do think it could use a few "girly" touches. As in my house, the Adler does not allow glitter, but adding sparkly stickers, colorful washi tape or patterned duct tape will make the (admittedly gender neutral) space even more inviting to some girls.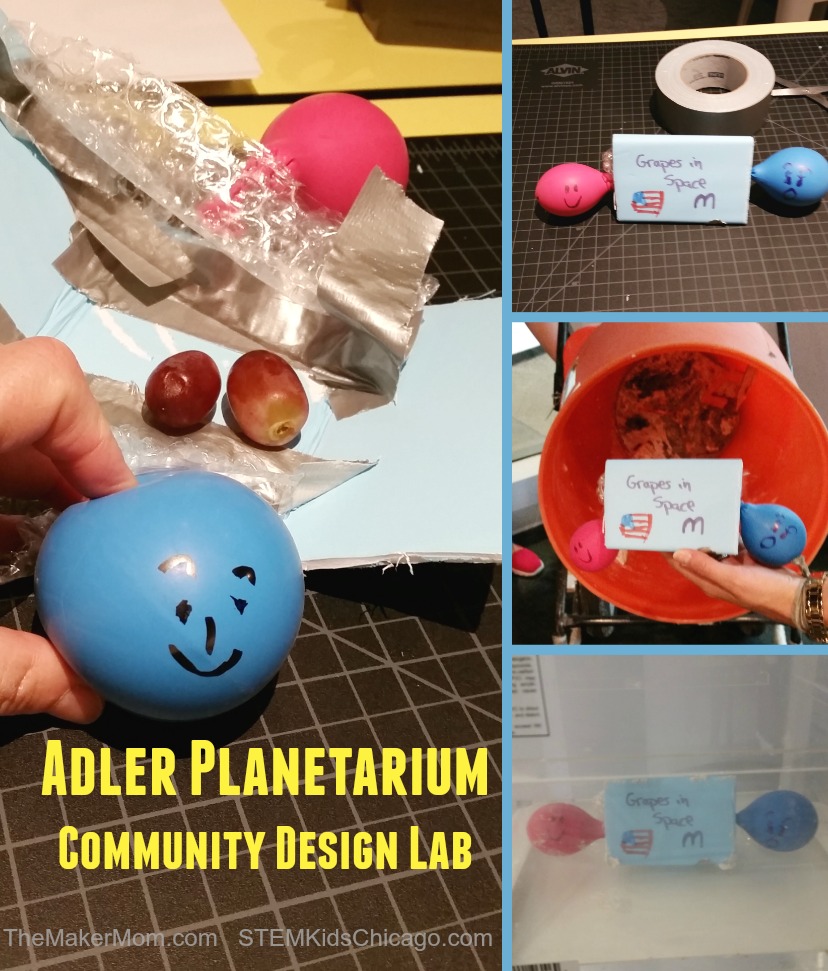 The Adler team is tapping into social media, encouragingguests to share their experiences at CDL with the hashtags #AdlerMemories, #AdlersNext85 or #LetsDoScience
The Community Design Lab will be open Sunday, June 7 – Tuesday, September 8. It will be accessible from 10 AM until 1 hour before closing. The CDL is free with general admission.