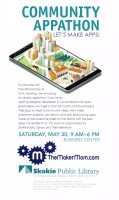 The Teen Appathon is almost here! It will take place on Saturday, May 30 from 9 AM to 6 PM at the Skokie Public Library. And no, it's not drop-in session or a class, it's a full day of learning and working to build technology solutions to help our community. Also fun! With lots of snacks! A long day might sound intimidating to some, but for teens with a mission, it's just right. And for some, it's just practice for the 24-36 hour hackathons they'll get to be a part of in college.
The day will start out with a nosh and an overview of community demographics. Student will brainstorm to identify pressing community problems and break into teams to create technology solutions, like apps, to address those problems.
Students do not need programming skills to be an important parts of this day. We need great idea people, designers, and problem-solvers in addition to teens with tech skills!
The program is free and the food is free, but wait–there's more!
We've also got swag and fabulous prizes that will be awarded at the end of the day. Geeky cool items like Sphero 2.0 (a cool robotic ball), a Sparkfun Inventors Kit and, thanks to Google, 2 brand-new HP Chromebooks!
As if that isn't good enough, students may also be eligible for community service hours.
Register for the Teen Appathon here.
Students without Skokie library cards will need to call the number on the registration screen to enter. Although targeting students from Niles Township (Skokie, Lincolnwood, Niles and Morton Grove), this event is open to all area high school students. That said, registration is limited to 30 students, and the program is filling up, so don't wait!