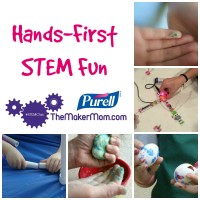 It's only fitting that the Hands-First STEM Fun #STEMchat was, well, lot of fun. Thanks again to our sponsor PURELL® Advanced Hand Sanitizer! All in all, we're a pretty adventurous group and try to instill that can-do spirit in our kids. We value developing a maker mindset over keeping clean. Read on to learn about some of our favorite activities and resources for STEM-loving families. Please note this post contains affiliate links.
We started off talking about some of the epic messes our kids have made in the name of STEM. My own kids know that I'll do almost anything in the name of education and use that to their advantage. They convinced me that throwing a watermelon from our second story deck would be a key learning point in their study of physics. (I'm sure we'll repeat it for even greater knowledge once we get our PocketLab sensor.) Other STEMchatters shared memorable messes that involved shaving cream and eggs in addition to other gross and goopy materials.
We discussed the fact that parents don't, and shouldn't, always take the lead. Rather, we should encourage kids to follow their interests and support them as needed by providing supplies, running carpools and connecting them with mentors when necessary. It's okay to facilitate their learning rather than constantly feeling pressured to play the role of the expert.

Ewww!
There's always a child or two who's hesitant to dive hands-first into a project and discussed ways to encourage their child to explore with their hands. Tips to help those kids include:
heading outside where dirty and clean are relative terms
giving them time to adjust to a hands-on sensory experience through calm, repeated exposures as we do when encouraging them to try new foods
model that it's okay to get dirty and to clean up
allow hand-wiping as needed during an activity
One chatter suggested to enclose sensory materials in plastic bags, so they can mush and squish without getting messy.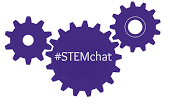 Resources
The heart of STEM chat is the useful resources that participants share. Here are some of STEMchatters' favorite things to do and make, as well as resources that help families have hands-first STEM fun!
Kits
Kits are great for dipping fingers in and testing out new activities. They have the potential to empower you to do pursue even bigger and better projects; that's why I call kits the gateway drug to making.
KitHub – monthly family friendly electronics and maker projects with video tutorials from panelist Tara Tiger Brown and partner Luz Rivas. (Click for a great discount on your first order.)
Circuit Stickers Kit – learn the basics of circuits without soldering
Groovy Lab in a Box – a subscription service to get a new lab kit each month
Makey Makey – an invention kit that turns almost any object into keyboard (Kim's note: see how my son used it to add an IRL element to Minecraft.)
Steve Spangler Science – a shopping site with lots of science based items
Favorite Projects
Big Hero 6 Science – science activities (including making oobleck) inspired by the movie
Binary Code Bracelets – make a fun bracelet that spells out your name in binary code
Build a Hovercraft you can ride; here's another Hovercraft tutorial
"Elephant Toothpaste" – a fun foamy activity
German Straw Ornaments – a fun ornament you can make for yourself or gifts for others from panelist Candace Lindemann's blog, Naturally Educational, (it's full of great projects, each with its own learning angle)
Host a Family STEM Night – ideas from Groovy Lab in a Box about hosting a STEM night at home. One STEMchatter suggested a STEM-themed block party instead of family night.
Shaving Cream Art – directions to create a tray of tactile fun using shaving cream and paint
Websites
A Moment in our World – a fun activity with kids to show them how germs can spread from our hands to what we touch
Crafts for Learning – panelist Kathy Ceceri's blog has links to fun STEM activities as well as her project-based books
Deceptively Educational – a blog devoted to educational activities with kids
DIY.org – an on-line community for kids to learn how to do many new skills
Smash Math – math activities for younger kids that incorporate play dough for tactile learning as well
Instructables – a free website with tons of user-generated DIY tutorials (Kim's note: not all Instructables content is child-friendly, so I advise against setting a young child loose on the site.)
Sensory Activities For Kids– a resource-rich Pinterest board
Left Brain Craft Brain– a fun site; this link leads to a post on sensory play STEM Activities
Lemon Lime Adventures – another fun activity site; this link leads to a list of 15 must-follow sensory blogs
MAKE Zine – a website with project ideas and videos; if there's a Maker Faire in your area, try to attend
Planet SmartyPants – a website written by an engineer-mom filled with literature-based activities combined with science, engineering and art
Play Create Explore – link to activities around the color green, including sensory bins