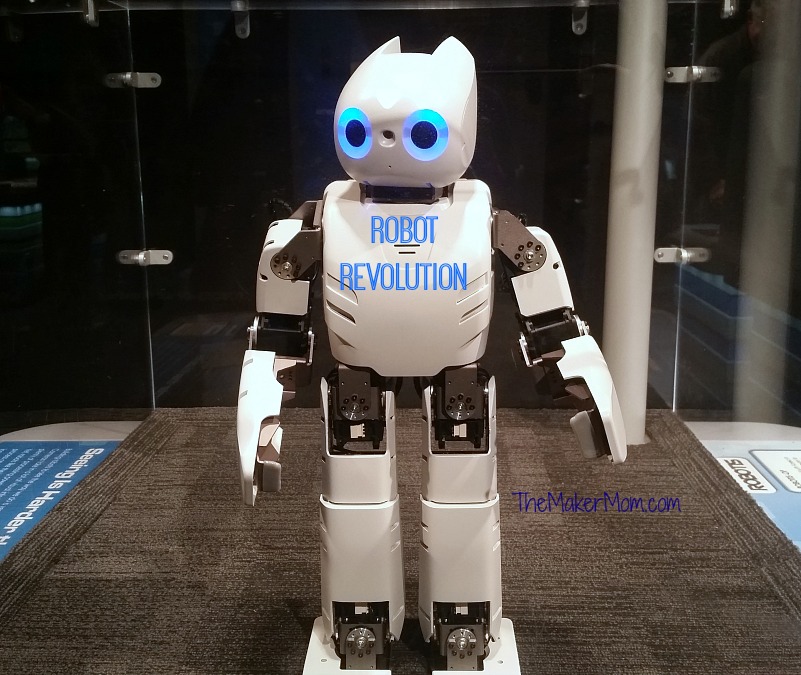 Last week while I was hosting #STEMchat, my husband and the Young Maker Teen were working their way through just about the coolest display of the most amazing robots ever to gather in one place, Robot Revolution exhibit at Chicago's MSI, Museum of Science and Industry. This should be the background for Night at the Museum 3 4 5.
The exhibit just opened and will be in town until January 2016, so I have plenty of time to visit. And so do you. But no worries if you're not planning a trip out my way, the Google.org-sponsored exhibit will be traveling around North America from 2016 – 2020.
2020? I thought we'd all have autonomous cars and robot servants by then.
But seriously, watch as they learn, grasp, sense and move about. I mean the robots as well as your kids. Thanks to the Young Maker Teen, you can read more about the exhibit after the video (which is also thanks to his efforts).
The Robot Revolution exhibit at the Museum of Science and industry in Chicago contains many different types of robots, varying from stair climbers to M&M sorters. The exhibit is meant to show the many tasks that robots can perform, and how they do them.
One of the robots deals games of blackjack, using suction cups to pick up the cards and complicated arms to maneuver around the playing field. Other robots play soccer together, passing the ball around and scoring goals. Some robots have more practical applications, such as a robot with multiple appendages used for surgeries. There is also a humanoid bot that can read emotions from a camera and change its facial expression to fit the person's mood.
I think that the robots are amazing. Some are very simple, others very complicated; I like the range of complexity in the exhibit. Of those robots on the higher end of that scale, I find it interesting to see robots with similar mechanisms doing completely different tasks. There are robots that doing jobs that humans can do, but better, and robots doing jobs that humans can't do, like snaking their way through pipes.
Signs describing how robots work and which parts are used for which purposes, help people understand the technology. This exhibit will show young people what robots can really do and give them ideas for career opportunities.
The Robot Revolution exhibit requires an extra fee. Guests will be assigned an entry time. Tickets are $11 for adults and seniors (age 65 and older) and $9 for children (ages 3-11), again this is beyond basic admission. Museum members receive discounts. You may be able to purchase tickets online, which is worth looking in to; this exhibit is going to be wildly popular.
Personally, I vacillate between embracing and fearing the coming robot culture. This is pretty much my reaction to most emerging technologies. After the initial "wow" factor wears off, I begin to ponder the negative implications, like loss of jobs. Will a robot take your job one day? NPR's Planet Money has been exploring the issue. Take a look at this handy tool to assess the likelihood of long-term employment in your current field. Click around and listen to their shows on the same topic. Interesting stuff.