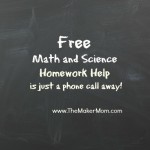 It's AP season and finals are just around the corner; do you know where you child is? Is she hunched over a screen reviewing lessons on Kahn Academy? Or is she watching the latest viral cat video? It can be hard to tell. But if your teens are anything like mine, they procrastinate. So what happens when it's crunch time- the Big Test is just a few days (or hours) away and there's no time to book a tutor? Try one of these free homework help lines.
Ask Rose: Free Homework Help from RHIT
Like many post-secondary technical schools, Rose Hulman Institute of Technology attracts smart students who can explain the way around a tricky calculus problem and know their moles from their quarks. The RHIT homework hotline provides free math and science help to Indiana students, and sometimes students from other states.
Tutors help students in grades 6-12.
7 p.m. – 10 p.m. (Eastern Time)
Sunday – Thursday
September – May
Call toll free at 1-877-ASK-ROSE (1-877-275-7673).
Rose Hulman is sometimes referred to as "The Harvey Mudd of the Midwest," so as a Midwesterner, it's exciting to see that Harvey Mudd College modeled their program after RHIT.
The Harvey Mudd College Free Homework Hotline
Tutors help students in grades 4-12.
6 p.m. – 9 p.m. (Pacific Time)
Sunday – Thursday
September – May
Call toll free 1-877-8ASK-HMC (1-877-827-5462)
Please note that tutoring may not be available during school or national holidays as well as during finals. Also check to see if your local library has tutoring resources in-house or through an online subscription service. Libraries have many resources beyond books.
About the schools
If you haven't heard of either one of these schools, you're not nerdy enough. Located in California, Harvey Mudd is part of the Claremont Colleges. It's typically thought of as a "reach school," meaning that it's hard to get in. In 2014 the school awarded more engineering degrees to women than to men. Their computer science program is 40% female, which is just about the best around.
Rose Hulman is in Terre Haute, Indiana, home to the square donut. Their freshman dorms fees include a weekly room cleaning and athletes can get their laundry done for free. It might be worth noting that even the guys on the football team can do differential calculus. RHIT something of a hidden gem, but the school is well-known to top companies that hire engineering and tech talent. It was also recently name a top salary-boosting college.