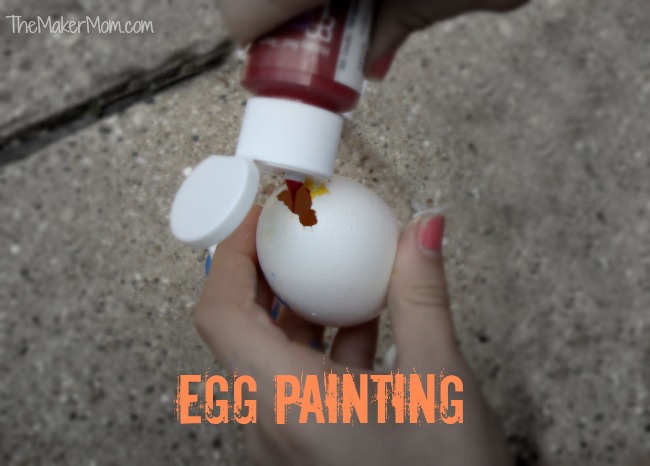 Last year we prepared a lot of blown eggs. That is we pricked a small hole in the top and bottom of raw eggs and blew out the innards to create hollow eggshells. I can't recall what my goal was, or if there even was a goal. But Easter came and went and I still had several empty eggshells sitting around. My niece was over for a visit and we decided to use the shells for new form of art–egg painting. As in painting with eggs, not on them.
Egg Painting
We found a couple of bottles acrylic paint and a few 12 x 12 blank canvases in my maker space. You can buy these at your local craft store. I likely picked up a multi-pack on sale at Michael's.
Next we set up an our outdoor workspace. This is definitely not an indoor activity! Even in the outdoors, we wanted to protect the nearby sidewalk and grass from our paint. Unsure of just how messy we'd get, we also donned aprons.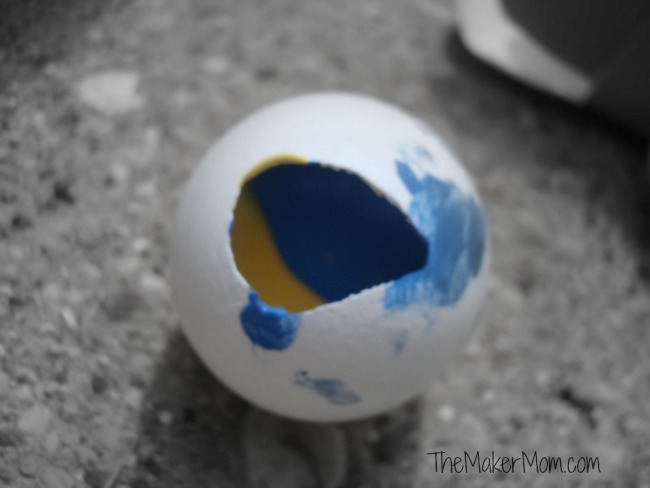 Then we poured paint into the hollow shells, often combining two complementary colors in one eggshell.
Once an egg was loaded we gave a warning like, "Fire in the hole!" and smashed the egg onto the blank canvas at our feet.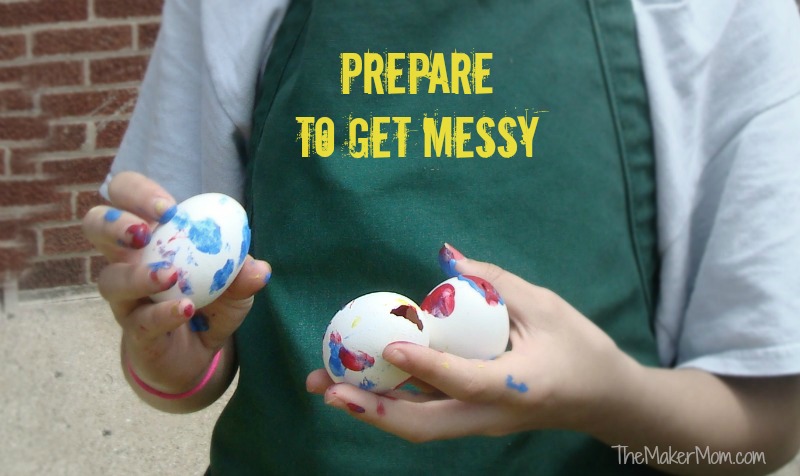 The result you see below was a basic abstract design. It might have benefited from a bit of glitter, but that's the one craft supply I forbid in my house. (One friend calls glitter the STD of craft supplies–it spreads and spreads and you can never get rid of it.)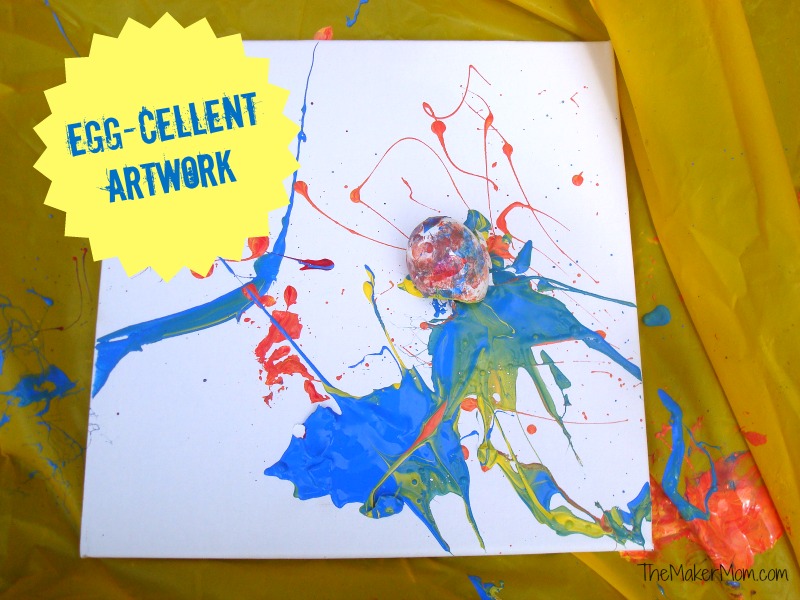 I'll be honest, in the end, neither of us was blown away by the art we created with our blown eggs, but we had a lot of fun playing around with this project.
Once we tired of painting, we moved on to something more practical– seed bombs. We filled the remaining eggshells with wildflower seeds and a bit of soil/compost and whipped them against the side of my garage and a wooden fence in the grassy alley near my house. The results were prettier than our paintings, but it took a couple of months for everything to bloom.
Got Eggs?
If you have a preponderance of fresh eggs sitting around, you might want to try walking on them. All in the name of science, of course. I hope you'll have better luck than my niece and I did, though! Be sure to let me know.
Pro Tip: make sure all of the eggs are arranged with the same orientation in the carton. I didn't know about that until it was too late.