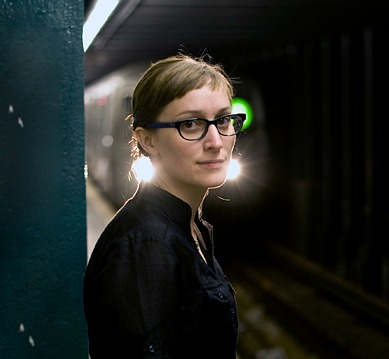 Alicia Gibb is an advocate for open hardware, a researcher, an entrepreneur, and a hardware hacker. We connected online after I heard about the Kickstarter campaign for one of her inventions, Build Upons, light-up LEGO®-compatible bricks.
I've heard a lot about how under-represented women are in computer science, but it seems there are even fewer women involved in the hardware end of things. How did you get involved?
I got involved through library science and open source software. I'm a strong believer in freedom of information so I got hooked on the concept of open source in the software world – I was right clicking on every webpage I could to "view page source." While in Library & Information Science school I taught myself Processing, an open source programming language, from a book. At the end of the book there was a chapter on Arduino, an open source hardware microcontroller and that got me hooked. I've always enjoyed working with my hands (my undergraduate degree is in art) so gravitating from hardware to software seemed natural to me.
There certainly are not very many women in my field. But the open source hardware movement is interesting, because, although there aren't many women, the women who are there are in strong leadership roles. I'm the executive director of the non-profit, the Open Source Hardware Association, our board has always been made up of around 50% women. I edited Building Open Source Hardware, and about 50% of the authors are female. Women in open source hardware own companies and are inventors. Of the 10 chairs of the Open Hardware Summit (founded by myself and Ayah Bdeir), 8 of them have been women. We make a point to get women to the Summit and put women on stage, and even girls! One year Super Awesome Sylvia gave a talk! We work with The Ada Initiative to give out travel funding for females to attend the Summit as well.
Can you share a bit more about your background?
I have an art education degree, and two masters degrees, one in Art History and one in Library & Information Science from Pratt Institute. I wrote my art history thesis on the Arduino microcontroller, looking at the ways artists have modified it. It was hard to find people who understood the technical aspects and the attraction of electronics in my degree! I taught myself electronics at NYCResistor, a hackerspace in Brooklyn, with the help of many of the members there. Having a community of people who believe you can do whatever you put your mind to makes a huge difference in life! I had people with whom I could inquire about how things work. They helped me troubleshoot, and overall think differently. The most important lesson I learned there is that engineering is a verb. We engineer things all the time in our daily lives without having a degree in it. There's so much emphasis put on needing a degree in the field to be an expert, but I think there's value in recognizing that people engineer creative solutions all the time at any job.
One of my favorite comments I would get while teaching intro to soldering classes at NYCResistor were always from people who went to engineering school. They would ask: "What engineering school did you go to that you know how to solder?" I would reply: "Art school, and I know how to weld too."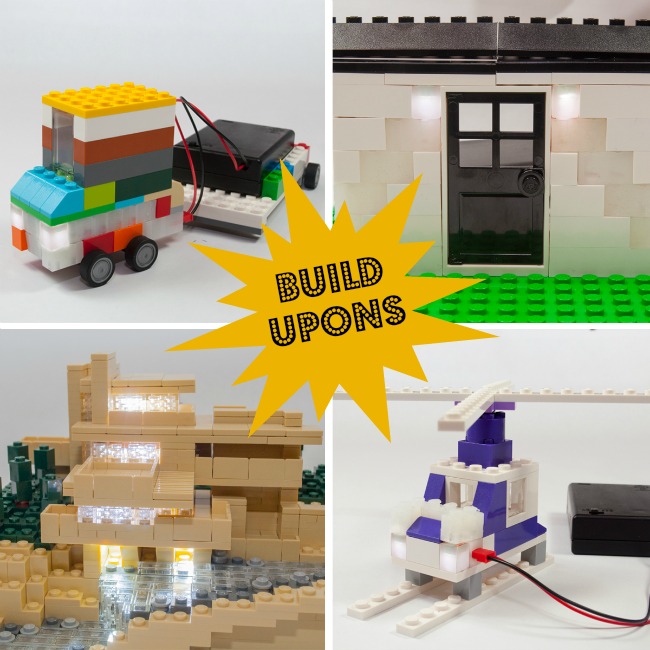 Tell me about your Kickstarter project, Build Upons!
Build Upons are awesomely tiny light-up bricks that are compatible with LEGO® bricks! Light up your robot, house, spaceship or monster! The Build Upons system has three types of bricks: an LED brick, a power brick, and a bridge brick. Light the LED bricks by connecting them to a Power Brick – you can design pathways with as many Bridge Bricks as you need for ultimate flexibility. Build Upons LED bricks are based on 1×1 bricks to create elegant designs. You don't need to know electronics to use these bricks, you simply build, just like you've always done. They'll be ready in time for the holidays, by the way. Check out our Kickstarter campaign.
Were you a big tinkerer as a kid? What were your favorite toys?
I was a huge tinkerer. My dad was an artist and carpenter, so I loved playing with all his toys. Clay, hammers, cameras, any art supplies I could get my hands on – and of course LEGOs. When I was little I wanted to be an architect because of all the LEGO houses I built with my imagination. I also loved baking. And I loved reading picture books and still do (part of what drove me to get a masters in library science – I thought I was going to be a children's librarian)!
What do you think of the recent movement to create girl-friendly building toys like LEGO Friends and GoldieBlox?
I'm glad we have a movement to create girl-friendly building toys! GoldieBlox is great!
But I have to say I'm disappointed in LEGO Friends, it minimizes the career choices for girls and making something in pastel colors and calling it 'for girls' always raises a red flag for me. It's not that girls aren't interested in playing with the regular LEGO sets, it's that LEGO continuously tells us through their advertising that those sets are specifically for boys, not girls, and I have a problem with that. Anita Sarkisian has a great video series that addresses this issue in depth. Take a cue from me, LEGO, to know what girls want from your sets: I didn't want a hair salon with pink and purple bricks, I wanted 1×1 light-up bricks that would be easy to integrate with existing sets, so I'm making them.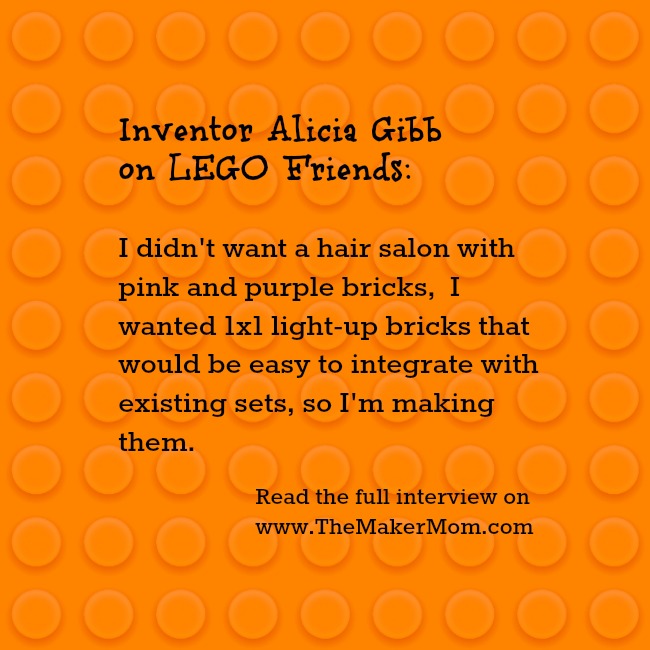 What advice do you have for future STEM girls?
Just because you don't have the "right" degree doesn't mean that you can't succeed in whatever you put your mind to! You can do anything you want in life, no matter how you started. Find an amazing group of friends who support your ideas and will help you build your dreams. Sometimes it can be difficult finding women in the fields you want to go into, but keep looking, we're there!