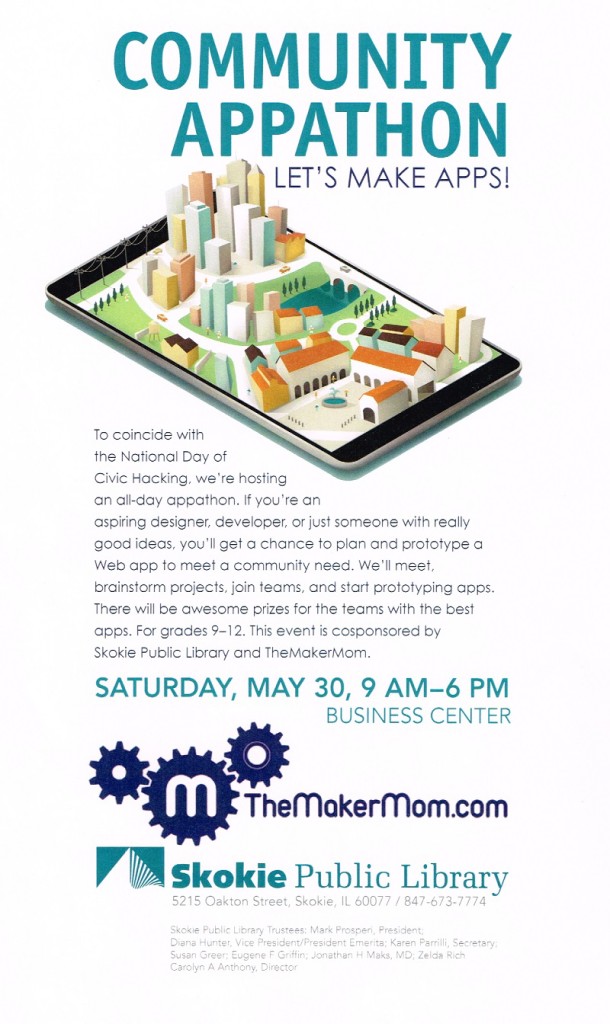 I'm thrilled to be working with one of my favorite places, the Skokie Public Library, on a teen Appathon for what has traditionally been the National Day of Civic Hacking*. We're going to bring teens together to brainstorm pressing community concerns and have them build or prototype apps that can address those concerns.
While we expect the event to attract some tech-savvy kids, the event is open to all high school students. Good ideas and sharp problem-solving skills are just as important as coding skills. We're going to break the kids into balanced teams- ideally a blend of teens with coding skills, visual/design skills, and Big Thinkers.
It's an exciting, first-of-its-kind event. We've got many aspects of the event down, including a great location, but we're looking for prizes for the event. We're expecting up to 30 teens and we're looking for a few things:
Food– the event will run from 9-6. As the parent teen boys, I estimate this translates into about 5 meals + snacks.
Giveaways– your basic corporate tchotckes (ideally with a tech theme, like portable chargers), including branded tote/gift bags, vinyl stickers for laptops, etc.
Team Prizes– the teens will be working in groups of 4-5 and it would be nice to have a couple of awards that we can give to an entire team.
Grand Prizes– These big-ticket items might be awarded for skills, attitude, or for just showing up on a summer Saturday in an effort to better the community.
Although tangible items make great team and grand prizes, so do experiences. For example, if Bill Gates wants to hold a Skype meeting with the winning team, we can make that happen.
Brands or individuals who provide prizes or food will get a big linky thank-you on this blog and social media shout-outs the day of the Appathon. Speaking of which, thanks to
*Apparently the day has moved from the last weekend in May to the first weekend in June for 2015.