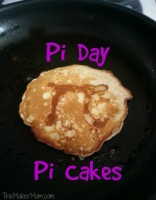 What good fortune it is to have Pi Day, 3/14, fall on a Saturday this year. That means you have plenty of time to make these awesome Pi Cakes, Pi Day Pancakes, for breakfast. I made these for my family last year and they were a hit, partly because of the recipe, which you'll find below, and partly because of the surprise theme.
I was feeling pretty proud of myself managing the to draw a reverse Pi with batter for (not quite) perfectly emblazoned Pi pancakes. Of course, that was well before I'd seen the incredible work of Nathan Shields, master pancake artist. I'll include his link below because you'll probably spend a big chunk of your day marveling at his pancake portraits. He's an inspiration to up my game this year.
How to Make Pi Day Pancakes
Grab your favorite pancake recipe (or mine, below) and a squirt bottle like the one pictured. You can find these at craft stores.
Mix up the batter according to directions. Add extra liquid as needed to get your desired consistency. Fill your squirt bottle about halfway and add a bit of milk or water as needed to create a fluid that's thick enough to be stable, but not so viscous that it clogs squirter. On the other hand, you don't want it so thin that it runs all over your pan.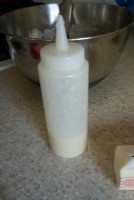 Practice makes perfect.
Before you jump into full Pi pancake mode, you might want to practice. Keep in mind that you want a make a mirror image of the Pi symbol, not the symbol proper. Once you've got it down (or you crowd is just too hungry to wait much longer), you're going to draw out Pi and let it sit for a few seconds while it cooks and firms up.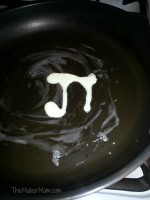 Then go ahead and pour a 1/4 cup or so of batter over your design. Let it cook like a normal pancake.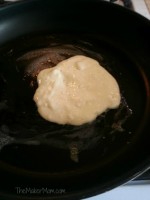 And then flip it over. Serve Pi side up and enjoy!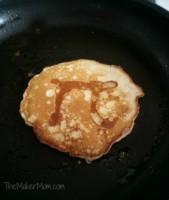 Thank goodness my boys are easy to please when it comes to pancakes. Now check out these videos from Nathan Shields. If you get serious about your own pancake art, be sure to send me photos!
Here's my favorite recipe, adapted from "Fluffy Pancakes" on Allrecipes.com. Makes 4 servings.
Plan on 3.14 Pi pancakes per person and adjust the recipe accordingly.
¾ cup of milk (it works fine with rice milk)
2 tablespoons of lemon juice
1 cup all-purpose flour
2 tablespoons white sugar
1 teaspoon baking powder
½ teaspoon baking soda
½ teaspoon salt
1 egg
1—2 tablespoons oil or butter, melted
Step 1: Measure the milk in a cup and add the lemon juice. Let this sit for a few minutes.
Step 2: Mix the dry ingredients in a medium bowl.
Step 3: In a large bowl, mix together the lemon milk with the egg and butter. Add the dry ingredients and mix together until the batter is smooth, taking care not to over mix.
Step 3: Heat a large pan or griddle and place ¼ cup of batter onto the skillet. When edges are brown and bubbles pop up to the surface, flip them over and cook the other side until golden.