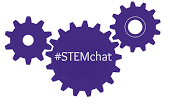 Engineers Week 2015 takes place February 22-28, so it's time to get planning. Thanks to last week's #STEMchat with Georgia Pacific, I'm able to share lots of great ideas for Engineers Week celebrations at home.
The conversation was exciting, informative, and fun! You'll see some of the highlights in terms of themes and resources below. At times, I present a narrative, and at other times, it's more of a laundry list. There were definitely common themes. In fact, the answers to one question sometimes overlap with another, so keep that in mind as you read and click on these great links! Please note this post contains affiliate links.
WHAT DID YOU ACCOMPLISH TODAY THANKS TO AN ENGINEER?
Of course, engineers play such an important role in so much of what we do, see, or use in our high-tech lives that the answers were wide-ranging. Our sponsor volunteered what seems like a low-tech product- toilet paper, but wow, look at this video about the engineering behind it! (Seriously, I just watched it. I would love to hear your kid's reaction to this video.) Another participant shared this fun post about making a Valentine's Candy Catapult.

WHAT ARE IMPORTANT SKILLS KIDS NEED TO DEVELOP IF THEY'RE INTERESTED IN ENGINEERING?
In addition to hard skills, like math and science, there were many mentions of things related to what might be termed creative confidence, a maker mindset or a growth mindset and what nurtures such an outlook, mainly time and space to:
be creative
tinker
enjoy free play
be outside and/or unplugged
Soft skills for budding engineers include:
creativity
critical thinking
curiosity
resourcefulness
ability to recover and learn from failure
persistence
Helpful links:
WHAT'S WORKED IN YOUR COMMUNITY TO SPARK KIDS' INTEREST IN ENGINEERING/RELATED FIELDS?
Responses here included opportunities to tinker, create or even just take things apart. STEMchatters are fans of real-world experiences and hands-on problem solving.
STEM clubs and competitions like VEX robotics, FIRST, Future City received a nod from our crowd.
So did engineering toys, like 3D Doodle Pen, GoldieBlox, Makey-Makey, Snap Circuits, Sphero , Squishy Circuits and littleBits. Subscription kits like Groovy Lab in a Box, Tinker Crate and STEMchat panelist's Luz Rivas's new KitHub are also popular options.
More formally, curriculum from Project Lead the Way (PLTW) is becoming quite popular in middle and high schools.

WHAT RESOURCES/IDEAS CAN HELP INTRODUCE ENGINEERING AS A CAREER?
Budding software engineers can get their start via Scratch, Tynker, Code.org, and Kodable. Kids can create online and then build real-life products with 3D modeling software like  Sketch-up (free) and Autodesk programs like Inventor (free for students and educators) and TinkerCAD.
DiscoverE has a page to show how engineers are making a difference in our life every day, and also the varied work engineers do.
Instructables is a community site on which users upload directions on how to build things, make things, do things, etc. (Note that not all projects are kid-friendly in terms of the work involved or project ideas.)
Try Engineering introduces engineers and engineering careers. It's designed for teachers, parents, and students.
WHAT MIGHT COMPANIES DO TO HELP SUPPORT STEM EDUCATION?
Businesses can open their doors for field trips and also allow employees time to volunteer in schools (with teachers and/or students). They can also provide training to help employees become dynamic speakers and engaging mentors.
Sponsor and promote science fairs and robotics competitions in the community– or start such events in conjunction with schools and community groups..
Sponsor outreach groups in the community (STEMchat sponsor Georgia-Pacific sponsors Keystone Science School  and Women in Technology).
Provide internship opportunities for high school students.
Provide tools and equipment to schools.
Reach out to scouting groups and work on badges with them.

HOW HAVE YOU RECRUITED ENGINEERS TO ENGAGE STUDENTS IN YOUR COMMUNITY?
Ask companies to find an employee with skills that matches your needs (for example, an engineer to coach a school robotics team).
Invite local inventors to lead an event in the community or the classroom.
Partner students and engineers on field trips, for projects or for q&a sessions.
Reach out to groups, especially ones from traditionally under-represented communities, like Society for Women Engineers or Hispanic Professional Engineers, and ask them to come into the classroom.
HOW CAN WE CONTINUE TO ENCOURAGE MORE DIVERSITY IN ENGINEERING/STEM OVERALL?
Expose all students early and often to diverse STEM professionals and role models.
Allow students to follow their passions when they create, design and solve problems.
Eliminate the notion of the "Geek" as presented in this Washington Post article entitled I'm a female engineer, and I love science. Stop calling me a geek." (Related note: why are nerd costumes still considered acceptable?)
When hosting or sponsoring a STEM event, team or competition make sure that women and minorities are represented in leadership roles, like as judges at a robotics tournament.
Actively look for opportunities to promote engineering in under-represented communities.
Reach to groups like National Society of Black Engineers and Hispanic Professional Engineers.
Establish STEM outreach programs, like Developing Innovations STEM Educational Outreach Program. They take teams of STEM ambassadors into the community to visit schools, clubs, camps, etc.
Use information presented in AAUW's paper Why So Few? Women in Science, Tech, Engineering, and Mathematics and from Google's Ventures's Unconscious Bias video.
TechBridge's Role Models Matter program provides training to help women become mentors and role models for young girls who may want to go into STEM fields.
Look for content with these hashtags on Twitter:
WHAT IDEAS DO YOU HAVE TO ATTRACT AND KEEP GIRLS/WOMEN IN ENGINEERING?
DIY Girls is an organization that works to get girls into engineering.
Engineer Your Life has loads of inspiring resources for girls in middle and high school who are considering a career in engineering. It also has resources for parents, educators and counselors.
Georgia-Pacific's Women in Engineering video series.
All-girls STEM classes and teams may bring some girls to STEM and keep them there. However, some girls prefer co-ed groups.
Educators should think across the curriculum. For example, enlist history teachers to teach classes about women-invented products as they teach the industrial revolution.
Show them awesome STEM women. Find moms, aunts, grandmas, etc to come into classrooms/groups/clubs/etc and speak about their experiences. Don't have a STEM matriarch in your family? "Adopt" one from Grandma Got STEM or find one at STEMinist.
Host an event for DiscoverE's Girl Day, a movement to help introduce girls to engineering.
Energy.gov Video Series that highlights women in STEM fields.
Thoughts on gender, engineering, and parenting, a blog post by our panelist AnnMarie Thomas
Three Rules for Career Advancement: a video from a Bechtel Corporation employee on the unwritten rules for women.
Women in Space: from The Telegraph Jobs, this site highlights women's role in space exploration.
WHAT MIGHT A "DAY IN THE LIFE" OF AN ENGINEER/RELATED FIELD LOOK LIKE?
An engineer's job will likely involve group projects and confronting complex challenges, but their roles vary greatly depending on the type of engineering they do (civil, electrical, packaging, sound, etc.) and the job they have. An engineer might spend much of the day outside, or huddled in front of a computer.
Our panelist AnneMarie Thomas, a professor at the University of St. Thomas, has a fun video demonstrating what happens when her job as an engineer "collides" with her hobby, circus arts.
Georgia-Pacific shares insights via A Day in the Life of an Engineer video series.
Have a wonderful Engineers Week and join us for an inspiring #STEMchat on Science on Thursday, March 3 at 9 PM ET!