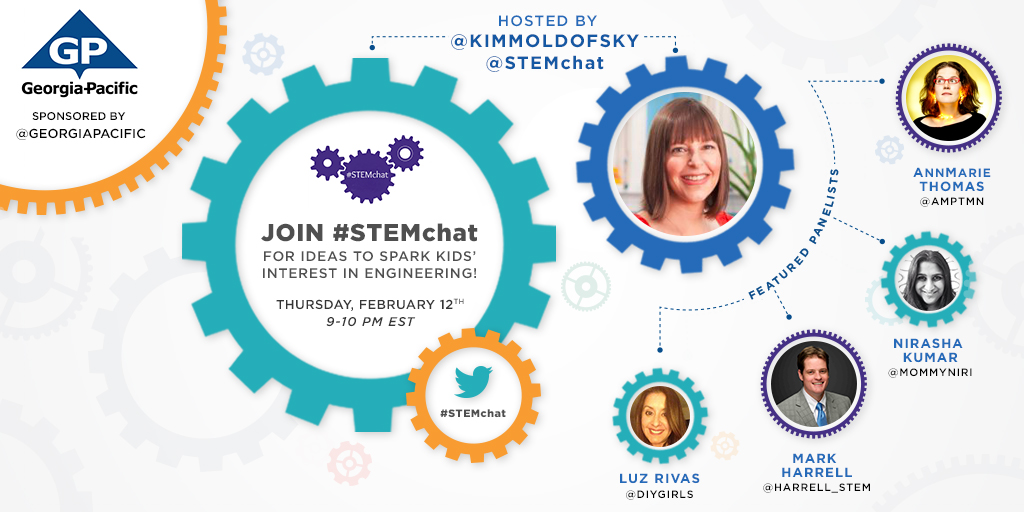 Save Thursday night, February 12 for #STEMchat on Twitter. Thanks to our sponsor Georgia-Pacific we'll be sharing ideas to encourage pathways to engineering careers. #STEMchat will take place from 9-10 PM Eastern.
We'll be talking about the E in STEM, Engineering. Some of the most plentiful STEM jobs involve engineering, but the field is about more than just gears and bridges. Engineering is about creating solutions. Join in for #STEMchat as we share ideas to get kids involved in engineering, tips for building skills, and resources to foster their passion in the topic.
Follow our great panelists to stay in the loop:
@GeorgiaPacific, our sponsor, is committed to supporting education and believes STEM is the key to building a competitive workforce and fostering innovation. It invests in STEM programs that foster project-based learning that translate to real-world activities. The company's Education in Nature website is full of creative activities and resources for educators, parents and students.
AnnMarie Thomas, @AMPTMN, is mom, wife, educator, maker, and engineering education professor at the University of St. Thomas. She may be best known as the inventor of Squishy Circuits or perhaps you know her as the author of Making Makers.
Luz Rivas, @DIYGirls, Luz Rivas, is an engineer, educator, entrepreneur and force for social good. I profiled her for STEM Girl Friday
Mark Harrell, @Harrell_STEM, technology education major, past engineering teacher and school district STEM coordinator. He's a self-proclaimed STEM Expert and Certified Problem Solver.
Nirasha Kumar, @MommyNiri, worked as an engineer for 12 years before she shifted gears to be home with her children. In addition to creating a STEM-rich environment for her girls, she runs the sites Mommy Niri and Mommy Niri Cares.
And me, @KimMoldofsky, also known as The Maker Mom and founder of #STEMchat. You might also follow me at @STEMchat, which is my default account if I land in Twitter "jail."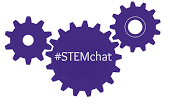 Do you know parents, educators or STEM professionals who are passionate about creating opportunities for future STEM leaders? Invite them to join and help us spread the word by sharing these messages on your favorite social networks!
* Join me for #STEMchat on Twitter 2/12 at 9 PM Eastern to talk about pathways in engineering.  http://ow.ly/IyCSp

* Share your fave resources for kids and engineering on #STEMchat on 2/12 at 9PM Eastern http://ow.ly/IyCSp
Sign up here to receive a free email reminder about #STEMchat the day before our chats, as well as news from The Maker Mom.