On the heels of last weekend's local VEX Robotics tournament, I'm full of enthusiasm for the league. And I want to share how you can start a VEX Robotics team for free! That said, I'm also full of appreciation for the group that came together to make the tournament a reality including (in no particular order) Robb Barton, Chris Powell, Tim Sullivan, Lisa Edelson from District 219, Regional Vex Coordinator Marc Couture, Rob (Robert? Bob?) Henderson and his students who helped stream the competition on the Cube the parents who staffed the concession stand (me!).* Also, a special thanks to the event sponsor Woodward and Pamela Olson and Juanita Garcia for representing STEM women.
Sheesh! What is this? The Golden Globes? Moving on…
Start a VEX Robotics Team for Free
Organizations like Intel, Chevron, and NASA understand the importance of a solid STEM education. They depend on a knowledgeable workforce that not only understands and can effectively use technology, but can engineer new technologies. These organizations think that the VEX Robotics league plays a valuable role in developing the next generation of STEM leaders and they walk the talk by providing grants to help new teams get started.
I don't know that there's a single criteria for providing grants. Instead, I imagine that some companies like to sponsor teams in states where they have a corporate presence, while others might provide funding where the needs are greatest. Scholarships may be available to start a team in the newer VEX IQ league designed for students in grades 4-8 or in the VEX Robotics Competition (VRC) for high school students.
Learn more about current grant opportunities here. In my experience, if you're working with a group that consists of populations that generally underrepresented in STEM, such as girls, minorities, or low-income students, there will be grants available to support you, even if they don't come from VEX's REC.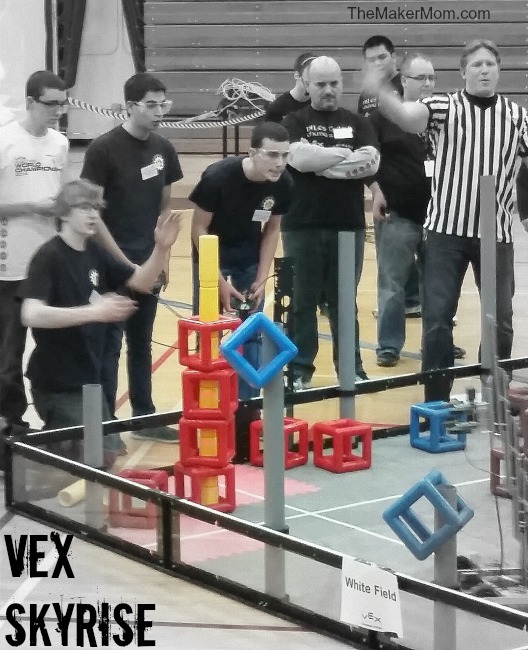 Keep in mind that teams still need to budget for league registrations fees (though some grants may cover the first year) as well as tournament entry fees. Each passing year most teams, at least VRC teams, need to replace a few worn parts or purchase pieces that help the robot compete at a stronger level. Many teams will also want to purchase a field and the equipment necessary for the annual challenge.
During my team's first year we went completely bare bones. We had the kit and no budget beyond competition fees. My scrappy team made do. That first year they competed in two tournaments, learned a lot, and had fun. By our second year a nearby school had started up a team and graciously allowed us to practice on their field. My kids made it to state that year!
Though a competitive league, people in it are generally very supportive. In addition to online forums, regional coordinators and veteran coaches may provide feedback and support or mentoring in real life. Even at meets where the desire to come out on top is fierce, teams will lend spare parts and such.
A grant is an awesome way to get started in VEX. That first year, especially that first competition, will provide a sense of what the league is all about. When the people who hold the purse strings in your organization see the application of STEM learning, along with the excitement and enthusiasm that come with it,  they might be motivated to dig a little deeper to make the program sustainable. In addition, the kids on the team might be motivated to raise money to keep it going, whether that means selling candy, Hexbugs, or bringing their robot around to local civic groups.
You Can Coach a VEX Robotics Team
Thanks to a grant, I ran a VRC team of middle school students for two years. I mostly told the kids when we were going to meet and drove them when they needed rides. No kidding, my guiding leadership philosophy was one of benign neglect. I'll admit this was largely due to my own lack of knowledge, which at first felt like a deficit. Eventually I realized that it forced the team members to think for themselves, do their own research, and come up with their own designs. I think it worked out well! Drop me a note if you're considering starting up a team of your own and need a little pep talk.
*And thanks to everyone whose names I forgot, didn't know, or inadvertently left out. Sorry!