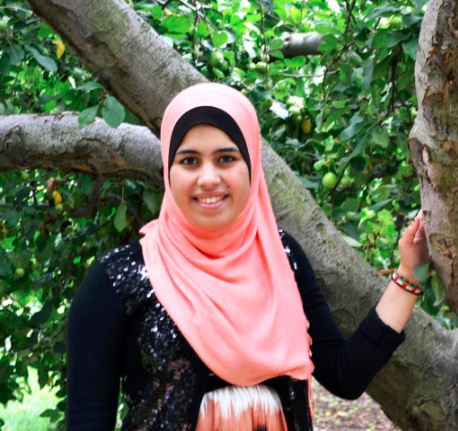 Siham Hussein is a senior at the University of Illinois in Chicago majoring in computer science. She's president of  UIC's Women in Computer Science.
The Maker Mom: Why did you decide to study computer science?
Siham: In high school, I was in the Career and Technical Education track for Computer Programming and Information Technology. We started programming in a drag and drop environment called Alice. I really enjoyed the logical aspect of it. I also really enjoyed my math classes in high school and when I saw how the math related to the programming, I thought "this is really cool and I can go places with this." In my university coursework, I learned how applicable computer science is to our every day lives and how much I can do with it and that encouraged me to stay in the department.
My older son wants to major in CS and we've be visiting colleges recently. I noticed that our tour groups are heavily male, usually about 80%. What is it like being a woman in the program? 
At first it was a little unsettling. In my introductory classes, I often felt out of place. But I got more involved in the department and joined several groups and that made all the difference. I think getting involved on campus and participating with your peers is a necessary step to success. It's nice to know that you aren't the only person who's suffering through a tough class. I also got involved with Women in Computer Science (WiCS) and became a part of a great community and that helped me feel more included and like I belonged in the department.
How can computer science programs attract more girls?
I believe it's all about outreach. Part of the problem is that not many girls are aware of the possibilities to begin with. By reaching out to young students and showing them what they can do in the field, I believe we can decrease the gender gap. This can be done in many different ways such as: visiting elementary and high schools, hosting an "hour of code," hosting a Girls Who Code club at different schools. WiCS at UIC has been trying to increase the female ratio in the department to 30% and we're aiming a lot outreach to high schools and grammar schools!
As I mentioned, we're looking at colleges with my son. There are a lot of options for that right here in Chicago. Why did you choose UIC? Do you have any tips on finding the right school or program?
To be honest, UIC was the only school I applied to when I was a senior in high school. However I started in the Chemistry department and it wasn't for me. I was planning on transferring to IIT and doing Computer Science there after my first semester. However, when I entered the CS Department at UIC, I immediately felt at home, especially as I progressed in the curriculum. I feel like the Computer Science Department is a very close knit community at UIC and there are so many resources available to students. If I get stuck on a project, I can go into the CS Lounge area and I will almost always find someone there who is willing to help and if no one knows how to help, there is someone there who will try to figure it out with me. I felt like I got to know my professors on a more personal level than I would have had anywhere else.
When looking for the right program, do what you love. As a Chemistry major my first year at the university was terrible. I wasn't doing well. I had no passion for the subject, I didn't like the material. As a CS major, I love what I do! I enjoy sitting down and working on my homework most of the time. When looking for the right school, you have to consider what you want to have when you graduate and what opportunities that school can open up for you!
Congratulations! It sounds like you have an awesome job waiting for you upon your graduation in a few months! What advice do you have for current CS students who want to follow in your footsteps?
Thanks so much! I will be starting at Google in August! There is a quote that I found on an image online as I was trying to finalize my post-graduation plans and it really inspired me: "It is a beautiful thing when a career and passion come together." I really love what I do which is why I like to put in 100% effort into it! It's a lot of hard work and dedication, but with a strong support group behind you and passion for the subject, you will go many places!