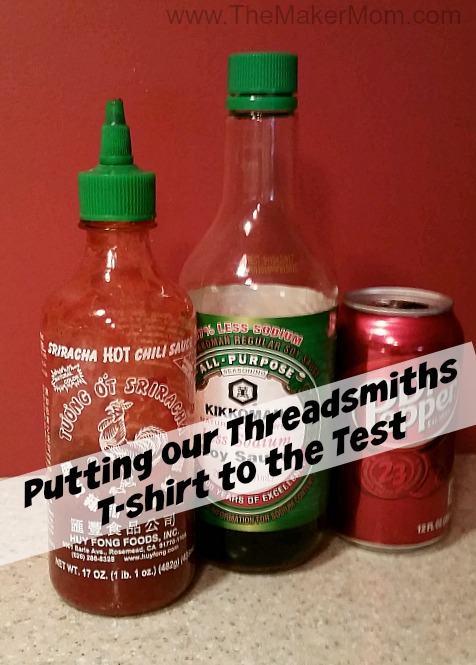 To be honest, I stopped wearing white long before I had kids. But I've especially avoided it since I spawned. With two messy boys, and now an even messier dog, it's just too risky–or it was until now. I was provided with a Cavalier T-shirt from Threadsmith Clothing to try out. The white t-shirt is made with a hydrophobic (water-hating) nanotechnology application that makes it a stain resistant shirt. Nanotechnology? No stains? After watching the video on the Threasmiths site, the boys and I looked forward to making one of our own.
Only it didn't go quite as planned. The shirt didn't come with testing instructions, so I figured we could do whatever we wanted. It wasn't until things went awry that I realized most of the online videos show the shirt being rinsed shortly after the potential staining agent is applied. So we splashed the stain resistant shirt with a hefty dose of spicy, red sriracha sauce. And it appeared to soak into the white fabric. The color didn't all rinse away. Oops.
We flipped over the shirt and my other son wore it for a more successful soy sauce test.
I'll be honest. Even though the shirt was provided to me at no charge, I was pretty annoyed that it seemed to stain. At AUD $65 (about $53 US), I certainly hope it lives up to its promises.
I emailed my contact who suggested I wash it and try the challenge again, but I'm not interested in sharing products that don't meet my expectations. Also, I'm lazy. So I left the shirt in a pile near our test site. Where it remained for days.
A few days later, I noticed that the stain looked lighter.
And few days after that, I could barely even see any sign of the sriracha.
I recently read that good science has a magical quality to it. I'd definitely say that about these shirts.
I went from nonbeliever to brand fan.
And because the shirt was like new again, we decided to do one more challenge. Check it out below.