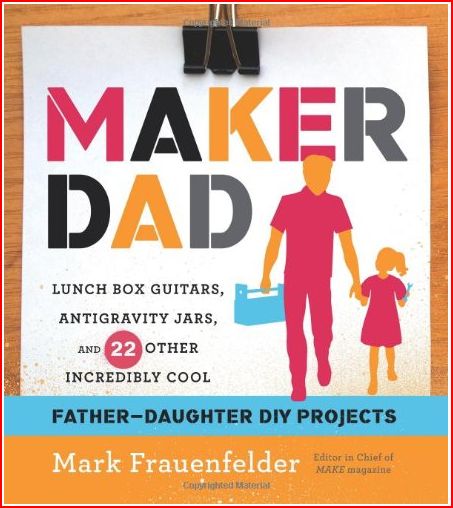 In 2013, I had the honor of introducing Mark Frauenfelder, editor of Make, to a packed audience at the American Library Association conference. Mark told the eager audience that he was working on a new book,  one that focused on father-daughter DIY projects. It's here and it's called Maker Dad: Lunch Box Guitars, Antigravity Jars, and 22 Other Incredibly Cool Father-Daughter DIY Projects
 (affiliate link).
I got my first look at Maker Dad when I noticed in the new book section of a local library a few months ago. I received a review copy from the publishers a short while later.
Maker Dad
True to its subtitle, the book does contain incredibly cool, unique DIY projects. However, these projects are also suitable for mothers and sons or hip aunties and uncles along with their favorite tween or young teen.
You can tell from the get-go this book is not your typical girl crafts book. For one thing, the list of necessary tools includes items such as soldering iron, a drill press, a wire stripper, and a band saw. I hope I'm not intimidating any of you dads; not all of the projects involve these things.
Indeed, the first project in the book, the antigravity jar, uses basic household supplies like a paper clip and thread along with one item you might need to special order (unless you have them to borrow from your Google Cardboard headset), neodymium magnets. The magnets are inexpensive and can be ordered online or easily found at a craft or hardware store.
Projects are rated as being easy and quick (E), moderately challenging (M) or challenging (C). They include:
Build a giant bubble wand (E),it's large and so are the bubbles it produces
Start a podcast (C), forget the kids–this one's on my list
Make an ice cream sandwich necklace (M) probably the "girliest" project in the book
Construct a kite video camera (C)
I told you, it's not your everyday craft fare. We're on the verge of a winter break without many solid plans ahead, so I hope the Young Maker Teen will tackle a few projects with me. I'll be sure to let you know if we do.
I love the daddy-daughter spin of the book, but  it really has broad appeal for maker-minded parents and their big kids, as well as maker-minded kids and their reluctant parents. If you have younger kids that you'd like to get involved in maker projects, check out Tinkerlab: A Hands-On Guide for Little Inventors. It comes highly recommended by friends.
Update: The Young Maker Teen just received his Secret Santa gift via the reddit exchange. Santa came in time for Hanukkah. YMT opened his surprise gift for the first night of Chanuka to find an Arduino UNO. Maker Dad has an entire section on experimenting with Arduino, a popular microcontroller that adds "an interactive element to almost anything."
 I'm psyched! Fun fact: TheMakerMom originally started as ArduinoMom.com, a site on which I was going to document my Arduino and electronics learning.
Maker Dad was sent to me for review. All opinions are my own.