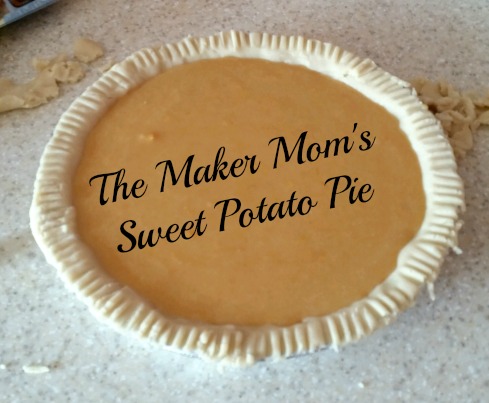 You can think of this recipe as my gift to you. This pie is one of my favorites. But I'll be honest, my main reason for posting it here is FOMO-Fear Of Missing Out. The paper on which the recipe is printed is getting worn and though I safely tuck it back into my recipe binder each time after I make it, it's only a matter of time before I lose it and I don't want to miss out on this sweet dessert. I don't know where the recipe originated, so I can't give credit.
I make this once or twice a year and though I've tweaked it from the original, I have never bothered making specific recipe notes. I'll try to edit some in here after I make this batch. It's always tasty, but consider yourself warned.
Sweet Potato Pie Recipe
Serves 4-8. Or maybe just 1 or 2.
The original recipe calls for 1/2 cup of butter. I use 1/4 cup of butter and 1/2 cup  plain or vanilla lowfat yogurt. (Why not just 1/4 yogurt? I have no idea. Oh wait, maybe this is why it's sometimes not as firm as I'd expect it to be…)
1/4 cup butter softened
1/2 cup plain or vanilla lowfat yogurt
1/2 packed brown sugar
1 cup cooked, mashed sweet potatoes (don't even think of using canned yams or any such thing)
3 eggs, lightly beaten
1/3 cup corn syrup
1/3 cup rice milk, plain or vanilla (this placates the lactose intolerant and cuts calories; the original calls for regular old milk)
1/2 salt
1 teaspoon vanilla extract (or just a dash if you use vanilla yogurt and/or rice milk)
1 unbaked pie shell (there's no shame in store-bought)
Preheat oven to 425.
Cream butter and sugar and add the yogurt. If the butter is too melty, it's going to look gross when you mix in the yogurt. Don't be alarmed, it will still taste delicious, though your mixture will not look as "light and fluffy" as the original recipe suggests.
Remember, it's all about the taste.
Blend in sweet potatoes and eggs. Add the corn syrup, rice milk, salt and vanilla. Mix well.
Pour into pie shell.
Bake (on a cookie sheet if your shell is near to overflowing) for 10  minutes at 425 and then reduce the heat to 325 and bake an additional 35-45 minutes longer or until well set. It might still be a just a little jiggly toward the center, but the pie will solidify a bit as it cools.
This pie is best eaten chilled. It might not be the prettiest, but it's really sweet, so you don't need whipped cream. I say this as someone who really likes whipped cream.
Have a happy Thanksgiving!