As I look back on 2014, one of the things I am most grateful for (beyond my family and our general health) is the experience I had thanks to Dawn at The Marine Mammal Center (TMMC). As a Dawn Day in the Wildlife Ambassador, I was flown to California to for an immersion day at TMMC. Our group of ambassadors got a behind-the-scenes tour and learned what makes TMMC tick (a passion for animals and a lot of volunteers!). Even better, we got to witness a sea lion release!
TMMC is the world's largest marine mammal hospital. They have a 3-pronged mission:
1. Get the animals well enough to be released back into the wild.
2. Study the animals and share their research findings. The health of the animals and types of injuries or illnesses they see is an indication of the state of the animals' marine home. TMMC is currently involved in several international studies.
3. Inspire conservation efforts in the water and along the coast, creating new ocean stewards.
TMMC works primarily with California sea lions, harbor seals, and elephant seals. I learned a few fun facts about each species.
*warning: injured animal below*
Elephant Seals
TMMC only works with baby elephant seals. Babies weigh around 60-75 pounds after birth(!) and after a month of feeding on rich mother's milk, they weigh a whopping 300 pounds! Perhaps it's just simple exhaustion that causes the mothers to take off at that point. Who can blame them? So at just one month old, the 300-pound babies are left to fend to themselves. However, it can take some trial and error to figure out what's food, so they are in danger of eating man-made items that can cause them harm. They make sounds like "angry chickens." Not sure what that's like? Well, elephant seals gave voice to the velociraptors in Jurassic Park.
Harbor Seals
Although the mothers of harbor seals provide milk for their infants, mom heads out to fish in between feedings leaving her baby alone on the beach. With a natural cry that sounds like "maaaah, maaaah," the seal pups are often thought to be abandoned when, in fact, mom is just out fishing. The TMMC rescue crew careful watches animals, sometimes for days, before attempting a rescue so that they can be sure the animal truly is in peril and not just waiting for mom to come back.
Sea Lions
Baby sea lions fish with their moms. They have large front flippers (seals have smaller ones). They are smart and can be easily trained. In addition, they habituate easily to humans. This means the rehab crew at TMMC needs to take special care to avoid forming relationships with them. As you can imagine, a sea lion, and all of their patients, really, need to go back to their kind upon release. Any animal that hangs out on the beach and attempts to befriend humans might also been seen as a threat to humans.
 The Marine Mammal Center's Mission
As noted, TMMC staff and volunteers take their roles as doctors, nurses, and therapists seriously. I'm sure it's really tough to care for their patients without forming relationships, but they're aware that it's not an animal's best interest to become attached to humans. It's all about getting their charges to successfully eat and compete back in nature. A typical stay lasts 6 weeks from acute care to rehab. In order to be released an animal must have clean blood work and have graduated "fish school."
The patients at TMMC are the marine mammal equivalent of the proverbial canaries in the coal mine. As global climate change affects the Pacific Ocean, it causes changes that ripple throughout the ecosystem. If the marine mammals are suffering health consequences from eating certain fish, they provide a warning for humans who may also consume those similar fish that swim in those waters. For example, read about TMMC's research on domoic acid toxicosis. But really, while a trending illness is disturbing, the bigger (and more disturbing issue) is an imbalance in the ocean. TMMC's work with sick and injured animals provides a unique and important peek into the evolving marine ecosystem.
In addition to interpretive displays and volunteer educators that share hands-on lessons with human visitors, TMMC features art work created from scavenged ocean trash. These are the very materials that animals get trapped in or otherwise harmed by- ropes, fishing lines, fishing nets, and more.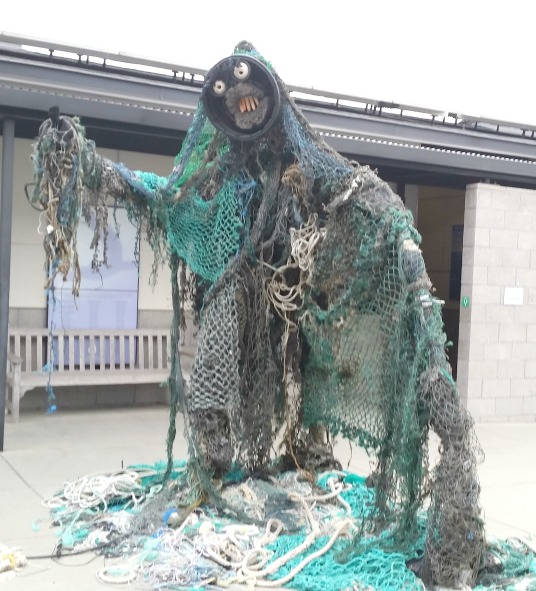 Although my experience as a Dawn Day in the Wildlife Ambassador went well beyond the typical tourist experience, I encourage you to stop by the center for a visit, a tour, or even an overnight stay if you're in San Francisco or visiting the Marin Headlands. Learn about TMMC's work and talk to their dedicated volunteers. Learn about the site's history (hint: it was a former Nike Missile site) While at the six-year-old center, a former NIKE Missile site. Talk to the passionate volunteers, take your time walking through the exhibits and don't miss out on any educational experiences that are available.
Into the Wild: Sea Lion Release
Here's where an already great day became an outstanding one: TMMC had three sea lions ready to head home. That the members of our group would get to be a part of this came as a surprise even to our hosts on the Dawn team. We took a long ride out to the coast and witnessed an extraordinary event. These pictures help tell the story, but I don't think it's possible to capture the beauty of what we were a part of.
Dawn is a prominent supporter of TMMC and International Bird Rescue, which we also learned about.
I received travel and compensation in my role as a Day in the Wildlife Ambassador. I also received two bottles of Dawn dish soap, some of which I'll be using to clean the good china we're using at Thanksgiving dinner! All opinions are my own.