We've all experienced the tedium of rote memorization. We feel frustrated when our kids are asked to digest facts and simply regurgitate them back for the next test, pushing that information aside when it's time to memorize the next chunk of information because yet another test is coming. Many of us remember this from our own days in school.
But there's another approach that many schools are embracing, project-based learning, or PBL. PBL involves "learning experiences framed around answering questions, addressing challenges, or solving problems." PBL engages students, actively involving them to solve problems through research and critical thinking, just like real scientists. Project-Based Learning STEM education is especially important for developing an understanding and aptitude for STEM topics, knowledge that lasts beyond the test.
It's like that old Chinese proverb,
Tell me, I'll forget
Show me, I'll remember
Involve me, I'll understand
This month's #STEMchat sponsor, IT'S ABOUT TIME® does more than rely on ancient wisdom; it relies on current scientific research and standards. Founded in 1996, It's About Time (IAT) is the leading provider of NSF-backed, project-based STEM curricula and edtech for K-12 and college students across the country.
Join in Thursday night, 11/13 from 9-10 EST to talk PBL in STEM Education
Recent NSF research based on IAT's Project-Based Inquiry Science (PBIS) indicates that PBL levels the playing field for minorities and low-income students, both groups that are under-represented in STEM careers. After one year, students showed improved overall test scores and engagement. This research made a big splash because it was the first of its kind. Read more about the promise of Project-Based Learning to close gaps in science Education on KQED's Mind/Shift blog.
In the Beginning…
Looking for background? Read about Janet Kolodner, one of the early architects of project-based curricula. She's an awesome STEM Girl, a cognitive scientist and a mom, who discusses why she created PBIS. (Hint: it had to do with her kids' lack of enthusiasm about science at school.) Her research became the basis for PBL.
And on November 13, 2014…
Were thrilled to partner with a leader in Project Based and STEM Learning for what promises to be a great discussion!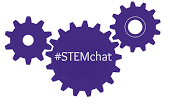 Join us to explore Project-Based Learning and share your top tips and resources for PBL and learn from the pros next Thursday, November 13.
Meet the #STEMchat Panelists
Sign up here to receive a free monthly #STEMchat reminder and hot posts from The Maker Mom.