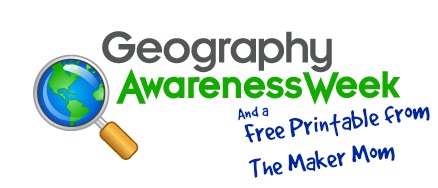 Geography Awareness Week runs November 16 – 22, 2014. When my boys competed in a Geography Bee as elementary school kids, it seemed like the typical fare – countries, rivers, land forms, and such. It wasn't until last year, when interviewed a geographer, Emily White, that I realized how exciting and broad the field is. My new enthusiasm gained momentum as I hosted a #STEMchat on the topic. This year, I'm taking things in a new direction (ha!) with a gift for you. Click here to download The Maker Mom's Geography Week Printable!
As I saw a friend recently note about her own work on Facebook, "it's not perfect, but it's done." That's pretty much how I feel about the printable. I don't think I'd get to perfect until next year's Geo Week (or later). This is my first stab at a such a thing and we all have to start somewhere, right? I know there's room for improvement and I'd love your feedback.
The printable is two pages, with the first one being more of a "clickable" featuring books, apps and fun geo links. The second page is something you actually might want to print. It features a geography game that's long been a favorite with my family and it also includes a handful of geography-themed discussion starters.
Let me know what you think and what printable features or themes you'd like to see in the future, like future "STEM day or week" printables, games, activities, etc.
This year's Geography Awareness Week is focused on the geography of food. You may recall that food is also the subject of this year's Future City challenge. Coincidence or have people simply figured out that the best way to a STEM kid's brain is through his stomach?
Geography Week Resources
If you're a homeschooler, librarian or traditional educator, check out these K-12 Geography Week resources from the National Education Association.
Connect with a GeoMentor to help your students use and understand Geographic Information Systems (GIS Day is November 19!).
And, of course, the mother lode of geo resources, National Geographic.