Click here for my 2015 list of great STEM gifts for boys and girls, tweens and teens. And don't miss 2015's 8 Crazy Days of STEM Giveaways! In 2015 I also created a list of wonderfully unique STEM-themed gifts for adults, many of which are produced by artisans who are also women with STEM careers.
One of the joys of writing this blog is getting previews of new books and products. If they spark something in me, I share them here. I also get to spread the news about a few of my favorites with a much larger audience thanks to my regular holiday appearances on WGN Morning News.
This year, I'm taking it up to 11. Not only did I get to highlight cool new tech and STEM items that are great for girls and boys, but I'm going to be running 7 giveaways of those items here on this blog!
Here's a quick summary of what I presented this morning. In the coming days I'll post detailed reviews of many of Sticker Circuits, Osmo and the Hexbug VEX Robot. I link below to what I've already written about the other products.
This post contains Amazon affiliate links.  
(See the 2012 hot holiday STEM gift list here. Here's the 2013 list of top STEM picks. Stay tuned for the 2015 gift list and giveaways!)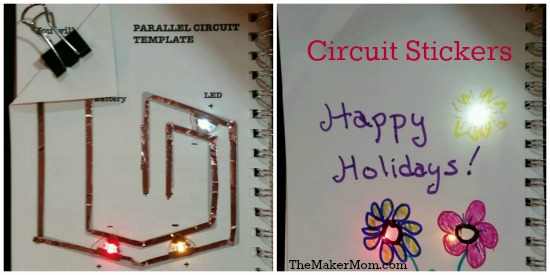 Circuit Stickers Every year my list includes an item that introduces people to electronics. This year's selection has a novel approach that makes it a good activity for parents and kids to do together. The "starter set" retails for $29.00. As of this writing, it's only $25 on Amazon, but supplies are limited.
Osmo  I love how this iPad extension blends technology and real world play. And smart play at that. Is it educational technology or just fun? You decide. Every visitor who's tried this at my house has been amazed at Osmo's reflective technology  You might be able to try this at Marbles, the Brain Store, if there's one near you. Osmo retails for $79.99 and comes with a base as well as supplies and three free Osmo apps.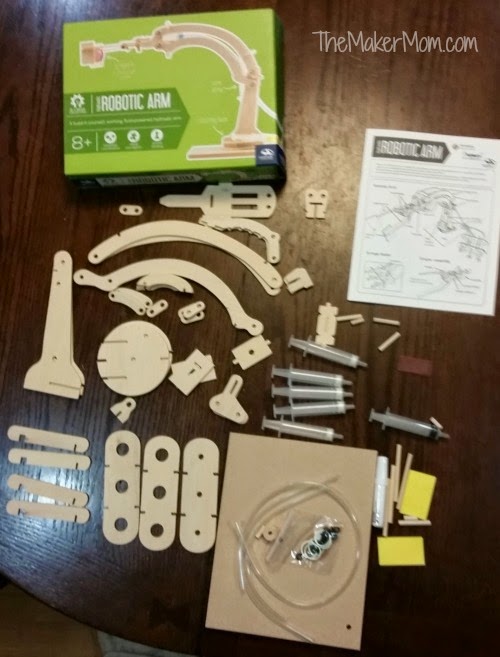 Hydraulic Robotic Arm from Marbles, the Brain Store It's fun to make something that does something. Check out my full review of the robotic arm as well as two other DIY kits from Marbles. It retails for $24.99, but see the store site for a Black Friday special that provides this product as a free bonus item when you spend $100.
Unofficial Cardboard Virtual Reality Headset It's quick and easy build. And for $14.95 you can't beat the price for a virtual reality headset. We spent about that much on lenses and supplies to make a similar headset from scratch, which took a bit more work. Unofficial Cardboard is available on Amazon, but the price is higher.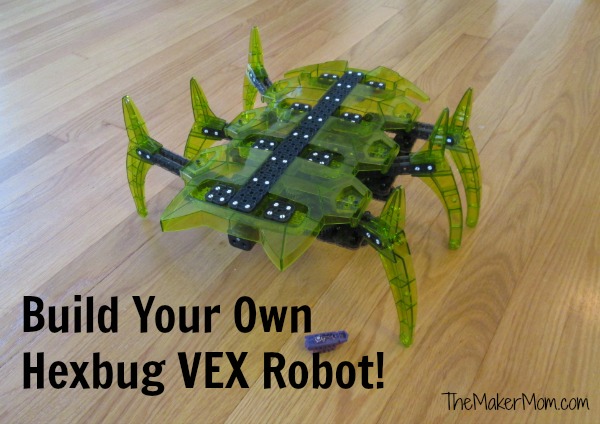 Hexbug VEX Robotics Playing with robots is fun, but playing with robots you build yourself is even better! The 4-in-1 kit retails for $149.99. The Scarab that I showed on TV and will be giving away, retails for $69.99. The kits are also sold on Amazon, but as of this writing, the price is not competitive.
Sphero is a robotic ball and Ollie is a robotic cylinder that operates via a bluetooth connection to iPhone, iPad, as well as Android and Windows phones/tablet (Sphero only). Drive them around and have fun, or learn to program with them! Read more about Sphero 2.0 here. They are competitively priced at Amazon at $99, but if you buy directly through Sphero you can take advantage of a holiday sale and get a free accessory (valued at around $10 and up) for the same price, so that's probably your best bet.
The Maker Mom's top tech toys of 2013:
See the full list here.
My 2012 STEM gifts for girls and boys included items like:
See the full list here.
Win one of The Maker Mom's top STEM gift picks! Please note the giveaways have ended.
Stay tuned for the 2015 giveaways!
Fill out the Google Doc below to enter. Enter by 1:00 PM CST on 12/08/14. Must be 18 to enter. Open to US residents. Retail value of prize ranges from roughly $15 to $99 US dollars. Seven winners will be chosen at random and I will notify the winners by email. If a selected winner does not respond within 48 hours of notification, a new winner will be selected.
You may only enter each giveaway once. However, to do that, you will fill out this same form and simply change the item you are entering to win each time.