It's STEM Girl Grandma Friday! Today I'm shining the spotlight on Gretchen McIndoe, a dedicated volunteer at The Marine Mammal Center (TMMC). Located is Sausalito, California, TMMC is the world's largest marine mammal hospital. I was privileged to see the inner workings of TMMC as a participant in Dawn's #DayintheWildlife* blogger event. In addition to an informative behind-the-scenes tour of The Center, Dawn paired each blogger up with one TMMC's 1,000 or so volunteers to learn more about their work.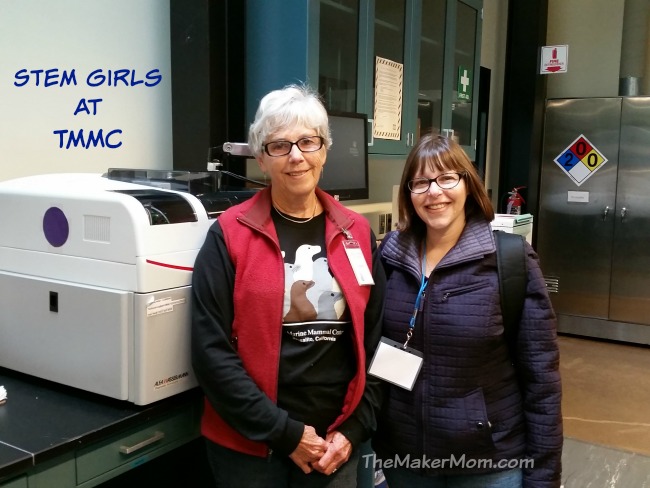 The Dawn team was thoughtful in their approach to the day, so the bloggers who write about housekeeping got up close and personal with the folks who scrub the animal tanks and crates and the bloggers educate their readers about outdoor adventures, met with volunteer educators. I was delighted to have a tour of the TMMC lab with Gretchen, a microbiologist who's been volunteering there for one afternoon each week for five years. Gretchen is a retired lab tech eagerly puts her clinical lab skills into practice to benefit the TMMC.
Each patient (read: each rescued animal brought to the facility) is given a blood work-up just as a human patient would after being admitted to a hospital. Luckily the marine mammals don't have a nurse waking them at 5 in the morning to take blood, but it will be taken and tested as needed.
Gretchen is a part of a team that helps TMMC keep their microbiology work in-house. This allows for quick turn-around on blood tests.
In addition to intake tests, at minimum, the patient will also have another blood work-up before being cleared to leave the facility. Of course, the staff takes into account more than just blood work before approving release. Healthy animals need to demonstrate that they are physically fit and capable of "eating and competing" before being sent home.
Analyzing marine mammal blood is similar to analyzing human blood in that the lab may look at complete blood counts, kidney function, liver enzymes and such. Our blood chemistries are alike, but not identical. Gretchen calibrates the machine to look for markers and quantities related to the species of animal whose blood she's examining. Below you can see that card that sets the machine for California Sea Lions. TMMC also rescues and rehabs Harbors Seals and (baby) Elephant Seals.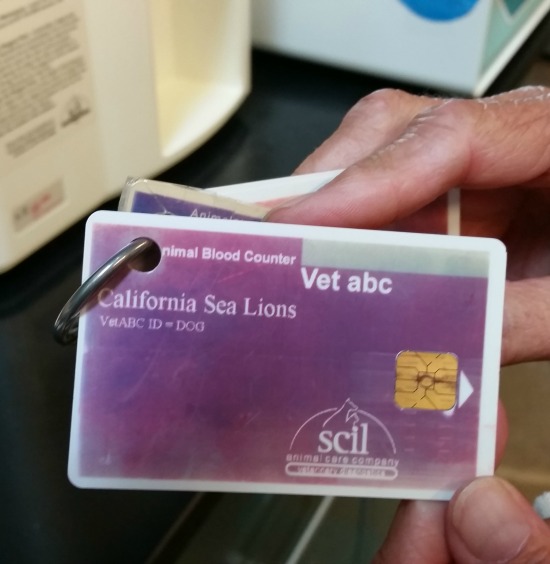 Gretchen tests a sample below. A small dipstick is deployed into the test tube and the machine analyzes that small sample.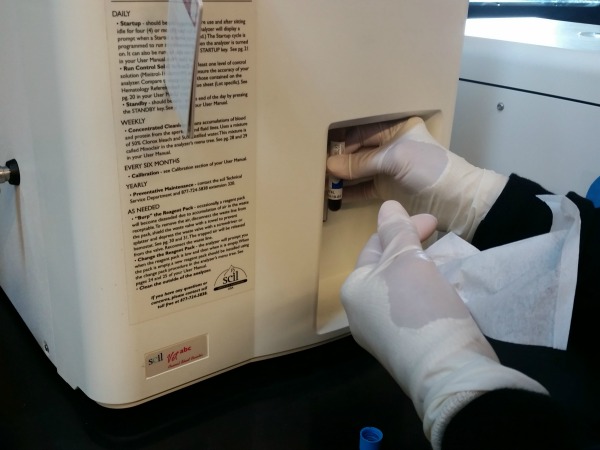 A minute or two later the machine prints out a report and Gretchen logs the results.
After reviewing the machine tests, Gretchen gave me a chance to examine the Sea lion blood up close. Here she is preparing the slide.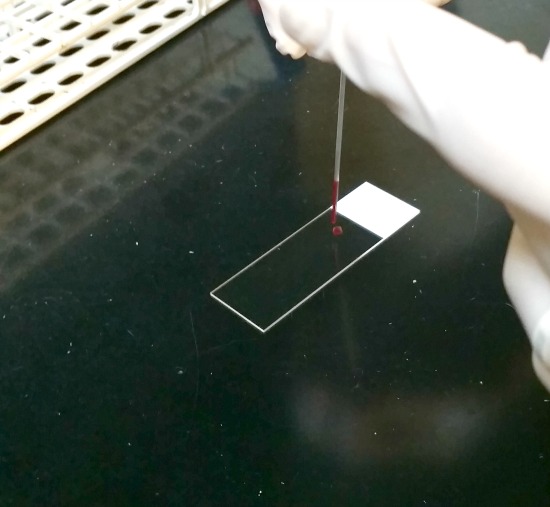 TMMC has a set of communal microscopes through which several people can share a single view via their own set of lenses. This allowed Gretchen to point our abnormalities from the specimen we examined.
She told me that Sea Lions have larger blood cells than humans. As noted by the arrow below, this animal had irregularities in its blood. This was only one of many abnormalities we observed in our small sample. She also showed me immature red blood cells that should have been maturing in the animal's marrow rather than floating freely through its circulatory system and pointed out something called bands, which are also a bad sign.
As we were viewing the slide Carlos Rios, TMMC medical technologist and one of the 50 or so paid employees, popped into the lab. Gretchen mentioned the odd sample we were looking at and without blinking Carlos started in on the history of the animal from which that sample was derived. I was impressed! Ultimately, he or she was not one of the center's successes stories. The Sea Lion was quite sick and had to be put down.
Each animal that dies on site or is euthanized undergoes a necropsy (an autopsy for animals). The findings of the necropsies add to our knowledge of not only the animals themselves, but also provide additional insights into their environment. I say "our" knowledge because in addition to being a hospital, TMMC is also a research center.
Behind the Scenes at The Marine Mammal Center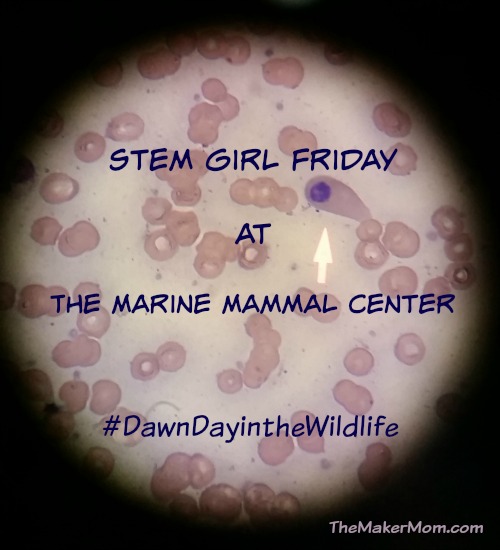 *I received travel and other compensation as a #DawnDayintheWildlife Ambassador. All opinions are my own. Also, I've used Dawn Dish Soap for years, but the brand did not know this ahead of time.