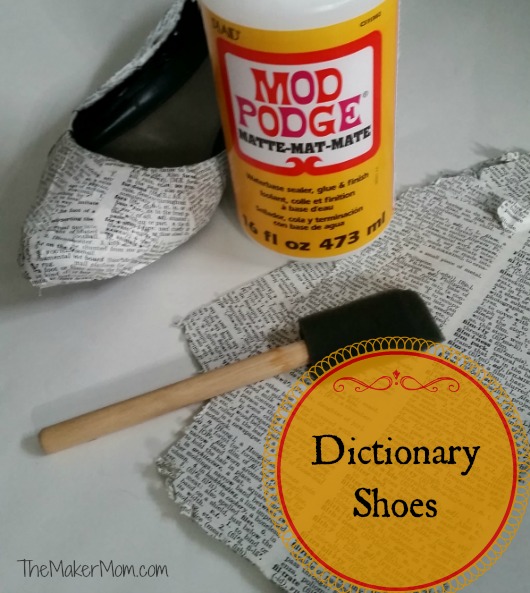 Dictionary shoes! Remember that book safe I made a few weeks ago? I had hundreds of beautiful, thin, black and white pages on my hands as a result of carving out the dictionary. A normal person would have simply recycle them, but I couldn't. I knew they would come in handy for other projects, like this one.
Decoupage Shoes
Take a page from me, these shoes are easy to make. And they are quite the fashion statement for word nerds. Literally, the best shoes ever, or at least the most literal.
All you need to make decoupage shoes is:
A pair of shoes with a smooth surface (I rescued mine from the giveaway pile in our basement)
Pages from the book of your choice (something lightweight like newsprint, comic books or a dictionary are ideal) torn into bits and pieces
Mod Podge or watered down white glue
A brush
A clean workplace (I used a scrap piece of posterboard)
If the shoes have a slick surface, like shiny patent leather, I suggest scuffing them up with sandpaper (a nail file of pumice stone will work, too). Other than that it's simply a matter of sticking down the bits paper to the shoes in a manner that pleases to you.
Let the shoes dry for at least four hours or overnight. Later, give them a final coat to seal things up. You can get fancy with a glossy, or even Glow in The Dark, coat of Mod Podge (affiliate link). Doesn't that sound fun?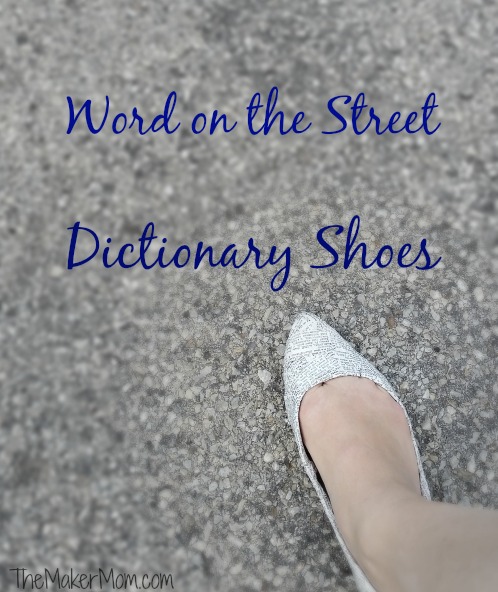 Shoes with heels definitely highlight the decoupage work more than flats, but I'm a fan of using what I have on hand (or foot, in this case), so flats it be for me.
I suspect I'm not quite done with them. I feel like the pair needs embellishment which can be in the form of:
A small flower fashioned from dictionary pages
Illustrations from the dictionary pages
A pop of color from the comics
Other uses for old books: