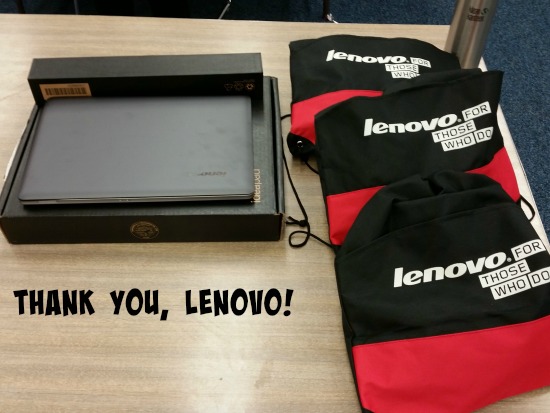 I've mentioned a couple of times that I'm a Lenovo Insider, a group of brand fans who get the inside scoop on the company and its products. In keeping with the company's tagline, For those who do, Lenovo helped me do something really cool for a group of Chicago kids.
Remember the Code Phreaks?
The Code Phreaks are a group of Chicago middle school students who spend their Saturday mornings learning to code with Brian Myers and a few other adult helpers. When the club began a year ago there was a core group of 8-10 kids. Last week 30 showed up! Only a handful of members have their own computers, so Brian borrows what he can for the students to use at meetings.
The last time I visited the club I had hoped to work a bit on my own coding skills alongside the kids, but wound up lending out my laptop to a student. I asked the Lenovo folks if they might have a little something lying around to donate to the group. Maybe they could spare 2-3 refurbished laptops for the most diverse groups of STEM kids I've even seen?
I'm so proud that Lenovo not only came through for me, but exceeded my hopes!
Lenovo sent 6 brand new computers for the Code Phreaks!
I didn't tell Brian about the bonus computers because I thought they'd be a wonderful surprise. And really, as adults, how often do we get fun surprises? Here's how it went down. As you will see, I was fortunate to have three lovely helpers.
3 IdeaPad U310 Touch models and 3 Lenovo Flex 10 computers.
Lenovo IdeaPad Touch
The IdeaPad Touch ultrabook has a sleek graphite-colored metal cover that screams "you know you want me!" As the name implies, it has a touchscreen display on it's 13.3″ HD monitor. It weighs less that 4 pounds and is less than an 1″ thick.  Battery life is about 6 hours. The U310 has an Intel processor,  USB ports, an ergonomic keyboard, wifi (Brian's only requested capability) and bluetooth, as well as stereo speakers with Dolby advanced audio and an integrated microphone and webcam. You can read the full technical details here.
Lenovo Flex 10
The Flex 10 is an ultra-portable dual-mode laptop that flips 300 degrees from laptop to stand mode, which can be useful in touch applications, demos or watching movies. So, yes, this is also a touchscreen model. t's also less than 1″ thick and is under 3 pounds, making it easy to use on the go. The Flex 10 includes a webcam, integrated stereo speakers and microphone, 2 USB ports, up to 4 hours battery life, an Intel processor, wifi, bluetooth and more, including face recognition login capabilities. Click for full technical details.
I'm blown away by Lenovo's generosity and it was an honor, a highlight of my year, to be able to present the shiny new computers to Brian and the club members.