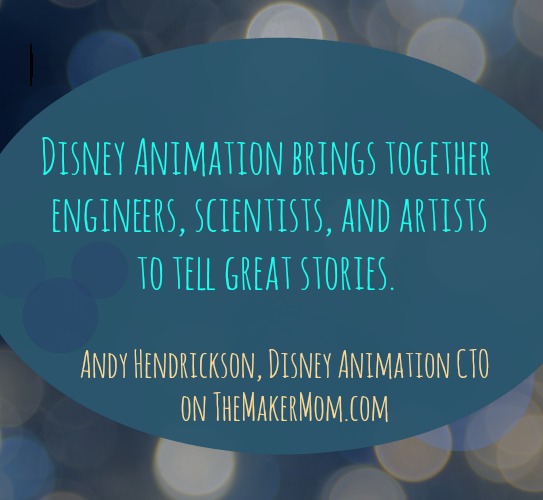 "Do you know about that new system they used to make Big Hero 6?" one of the Maker Teens asked me yesterday, "It's so fast it could render the entire movie Brave in, like, 10 days."
In a Freaky Friday-like switch I was the one who responded with an eye-roll. "You mean the Hyperion system? The Disney Animation supercomputer that ranks among the top 75 most powerful in the world? Do you read my blog?!"  I sighed with adolescent drama. "I already wrote about the technology behind Big Hero 6."
Not only that, I got to interview a big cheese at Disney Animation:
Andy Hendrickson, Chief Technology Officer
I wrote a separate post about the technology behind Big Hero 6 because most of our conversation focused on Andy's background, the animation studio, and advice for students who would like jobs at Disney Animation.
Andy Hendrickson, the early years
As a kid growing up on a rural cattle ranch, Andy knew he wanted a different kind of future. And then, when he was 12, he saw a movie about a boy on a farm who also had bigger plans. That movie changed his life.
That movie was Star Wars.
The special effects in Star Wars were created with computers, so young Andy decided he was going to learn to use computers. That's easy enough nowadays, but back then it meant assembling your own without the help of Google or YouTube. It was all about mail order, magazines, and, for the serious folks, clubs that provided opportunities for peer learning and support. After all, there were few teachers (not to mention modems) back then. Andy built his coding skills on the like of the Atari 800 and TRS 80.
Andy eventually went on to work for LucasFilm and we all know that Disney owns the Star Wars franchise now, so he's truly come full circle.
High-Tech Playground
Instead of breathing country air on the family ranch, Andy works in what's been called one of the highest tech playgrounds in the world. He, however, describes the environment at Disney Animation as more of a tech playground and arts colony mixed together.
Disney Animation brings together engineers, scientists and artists to tell great stories.
The tech folks at Disney Animation are actively engaged in what Andy calls "artistically motivated science experiments." For example, building a virtual particle accelerator to make accurate models of snow for Frozen. In Big Hero 6, the challenges revolved making computationally efficient light and illumination (you can read more about that here).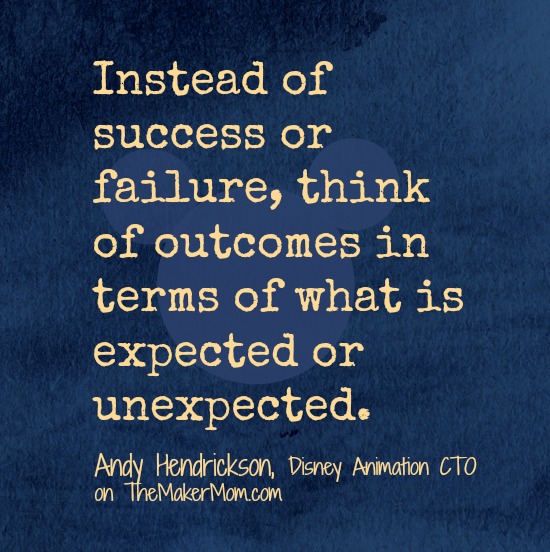 How to Get a Job at Disney Animation
As the Chief Technology Officer, Andy wants people on his team who make art with technology. That is, quite simply, what Disney Animation does. He wants to hire artists who have branched out into technology and technologists who make art.
The more we talked, the more the Disney Animation studio started to sound like MIT's Media Lab, so I asked if the Disney technology ultimately trickles down into consumer products. Andy told me that his job is focused on using the technology to create engaging stories and immersive environments. He told me that there is another Disney group charged with looking at consumer applications and products. That said, the equipment Andy's group uses is so cutting edge that it might take up to a decade for technology to become mainstream in part because most consumers lack the hardware necessary to run their software.
Andy's people do a lot of research. There's a lot of trouble-shooting, too. That translates into a lot of learning.  "There is no failure as long as you've learned something," he said.  Actually rather than failure and success, he tends to think in terms of expected and unexpected outcomes.
Which is all well and good. But he's still got a movie and a profit to make. Ultimately, deadlines rule the day, but a culture of experimentation fuels Disney Animation forward.
Okay, so Andy has access to more and better technology than most of us do and he's deeply tapped into academic research, but today's young students and their families can do the some of the same things he does to keep current and spot trends.
Andy recommends going to events like:
to see how creative types are playing with technology and how tech geeks are getting creative.
Students who are serious about working in the field of computer generated animation for films (or video games) should get involved in ACM's SIGGRAPH, that is the Association of Computing Machinery's (I know, sound so old-fashioned, right?) Special Interest Group for Computer Graphics and Interactive Techniques. By the way, spoiler alert: this advice was echoed by Disney Animation's Technical Supervisor Hank Driskill. I'll post his interview soon.
Want to be Disney Animation's Next CTO?
Andy offers three pieces of advice to kids who want his job or one like it:
You need to be able to combine art + science.
Show you can use technology to tell stories and entertain other people. Maybe you make movies, maybe you make a robot that can juggle. You have to make something, though.
Your transcript should include art classes, programming classes, physics (which is Andy's degree) or other science classes that prompt you to question, experiment and think about results.