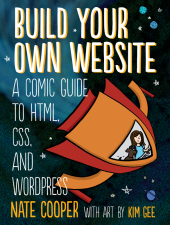 A couple of months ago, a friend pointed out Build Your Own Website: A Comic Guide to HTML, CSS, and WordPress
 and I thought that might be just the thing I need to get started. I recently put on my big girl blogger panties and moved (read: paid someone to move) this site over to WordPress. I've always appreciated the ease and simplicity of Google's Blogger platform, but I knew it was time to move on.
That said, not only did I pay someone to move the two years of content over, but I also paid to have it look nice from the get-go. I used RK Responsive Design and can't say enough about the high quality of service. I know I can always drop them a note if I have a question, but I want to feel more comfortable maintaining the site on my own.
I need some skillz, people!
So I purchased a copy of Nate Cooper and Kim Gee's book, Build Your Own Website. And like STEM Kids Chicago, it sat around gathering dust, but after hearing how much fun my friend Brandie and her daughter had at Code and Cupcakes, I cracked open the book.
Build Your Own Website features a character named Kim(!) and her dog Tofu (close enough to Tesla) off on a dreamy adventure. It uses a comic book format to introduce basic HTML and CSS terms and concepts in a lighthearted way. The content is reinforced by drier denser text at the end of each chapter.
Despite, or perhaps because of, a couple of looming deadlines, I've started playing around with code. Also, the grout lines in my shower are looking pretty good (procrastination, I am your b*tch). At any rate, after reading and working my way through the HTML section I did, indeed, create a very rudimentary web page on my own.
The book doesn't list specific exercises as you read through it, but anyone who wants to learn can riff on the storyline for real-life lessons. If you're planning on giving this book to a teen or tween, you might want to create a schedule to ensure they do more than just skim through it.
I saw that my son is hosting a little website competition for the app club he started at school, so assuming I can meet my work deadlines, I'm going to try to sneak my practice site in.
Build Your Own Website: A Comic Guide to HTML, CSS, and WordPress
 (affiliate link) (No Starch Press; September 2014) retails for $19.95, but it's on Amazon for under $15 as of this posting. I purchased the book on my own and chose to share a review because I'm finding it to be helpful.