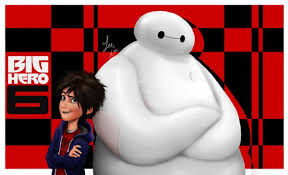 A handful of bloggers will soon be going to a red carpet premiere of Disney's latest film, Big Hero 6. I won't be among them. However, last week I got the chance to talk with two top executives at Disney Animation, Andy Hendrickson and Hank Driskill, from the comfort of home, wearing jeans and, likely, the t-shirt I slept in the night before. Clearly, I'm winning.
The interviews were lively and interesting. I didn't actually ask a lot about the movie, but instead focused more on what one needs to get a job on the tech team at Disney Animation. Stay tuned! I'll share those write-ups in a posts of their own.
Now about that movie.
Big Hero 6
Opening in theaters November 7, Big Hero 6 takes places at an undetermined point in the near future in the fictional San Fransokyo. It's an exciting story about quirky kids, robots, and technology. Sounds like my life. If you read this blog, chances are, you'll want to see this movie.
Quick summary: a horrible event befalls the city and protagonist Hiro, his robot Baymax, and wacky band of friends must get to the bottom of things. Hiro transforms his misfit buddies into a group of high-tech heroes, Big Hero 6, to make things right. The movie looks like a lot of fun. It's been a few years since the Young Maker Teen has seen a Disney flick, but I'm hoping he'll go with me.
 The Technology
A new rendering system, Hyperion, was created and employed in Big Hero 6. Hyperion is "a new lighting system that supports global illumination" and allows for detail and lighting features like never before. The system relies on a supercomputer with more than 55 Intel cores to do the processing. According to Electronic Design, the system performs 1 million render hours per day. It also allows workers to check the movie's job status on their smart phones.  Click on the article for even more information if you want the techie details.
And to get a broader sense of what the Hyperion system means for the movie, read this piece at Gizmodo.
Big Hero 6 XPrize Challenge
Kids in US and Canada ages 8 -17 are asked to think BIG and use STEM to create a way to make the world a better place while having the chance to win things like a trip to the red carpet premiere, a VIP tour of Disney Animation Studios or VIP experience at Walt Disney Animation!
Once they've got an idea, they create a 1-3 minute video explaining it. With parental consent kids upload their videos and the judges will select 20 finalists, who will then be put up for public vote. Note, the deadline is tonight, October 12, so click for details and get going!Public voting begins later this week.
I might be a little late for your kids to enter, but you can still get a look at videos that have been submitted.