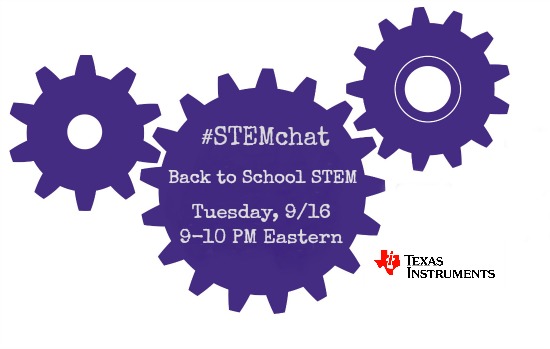 It's back to school and back to STEM, as if we ever left it behind. On Tuesday, we'll be partnering once again with sponsor Texas Instruments to talk STEM inspiration!
Join us on Twitter Sept. 16 from 9-10 PM Eastern.
What's new with Texas Instruments?
Or should I say, what is TI giving away to STEMchatters this year?
The answer to both of those questions is the colorful new TI-84 Plus C Silver Edition!
No worries if you've already upgraded because you can also win a TI-Nspire CX.
You'll find details on the giveaway below. Did I say giveaway? Make that giveaways. You'll have three chances to win a TI-84 Plus C Silver Edition from The Maker Mom!
In addition, Texas Instruments is giving away a classroom set of calculators (30) as well as a chance to videoconference with STEM pro and Big Bang Theory star Mayim Bialik through the #TISelfie Contest.
It's easy to enter: simply take a selfie of you and your favorite TI Technology, post it to your public Instagram or Twitter profile with the #TISelfieContest hashtag and fill in the blank on this caption (choosing math or science), "I make math/science _____ with TI."
Even the Young Maker Teen got in on the action.
Meet the #STEMchat Panelists
Emily Calandrelli, @EmCalSpaceGal, a rising star and former STEM Girl Friday, will make her first appearance as a panelist. With a master's degree from MIT in Aeronautics and Astronautics as well as Technology and Policy she knows a thing or two about STEM. Her new show launches this month.
Kelly Kutach, @TIKellyK, a former classroom teacher and current math education specialist at Texas Instruments.
Kris Cain, @LittleTechGirl, a digital lifestyle expert, blogger at Little Tech Girl and mom to two sets of  of STEM-loving twins.
Leticia Barr, @TechSavvyMama, a mom of 2 elementary aged children who uses her experience as a former teacher and technology specialist for a large DC Metro school to champion STEM learning in her own kids while providing tips for her TechSavvyMama.com readers on integrating STEM into family life.
Shelly Kramer, @ShellyKramer, is the founder + CEO of V3 Integrated Marketing. She is a brand strategist serving clients in both the B2B and B2C space. She's also the mother of four daughters and passionate about STEM education and opportunities for girls.
Texas Instruments Education Technology,  @TICalculators.

I'll be chiming in as @KimMoldofsky and, possibly, @STEMchat if my personal account lands in Twitter jail.
About Those Giveaways
The new TI-84 Plus C Silver Edition is available at these fine retailers, but you can enter to win one for free. Actually, we'll be giving away a total of three calculators.
Enter here now for the pre-STEMchat giveaway.
We'll have another giveaway during the chat for participants.
During the chat and for a few hours afterward, you'll have another chance to enter here on the blog.
This giveaway is now closed.
Can't get enough education technology? Follow TI all around the interwebs:
Tweet you Tuesday night!