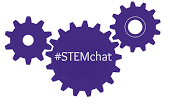 Thanks to everyone who joined in for STEMchat with me, Liz Heineicke, and Joanne Manaster in celebration of Liz's new book, Kitchen Science Lab for Kids. We talked about kids and science with a lively crowd of Twitter friends. As always, the STEMchatters provided great resources to help inspire science-loving kids in your home or classroom. I'm sharing some of the favorites below. (Please note this post includes affiliate links.)
Stay tuned for the September STEMchat with host Texas Instruments. It will take place on Twitter on Tuesday night September 16, 2014 at 9 PM Eastern and will include a sweet EdTech giveaway! Sign up for an email reminder here.
Resources to Raise Kids Who Love Science
Websites and Blogs
YouTube Channels and Videos
Books and Magazines
Shopping
Other
ISTE: The True Meaning of STEM – an on-line seminar hosted by ISTE (International Society for Technology in Education) on Sept 3, 2014.