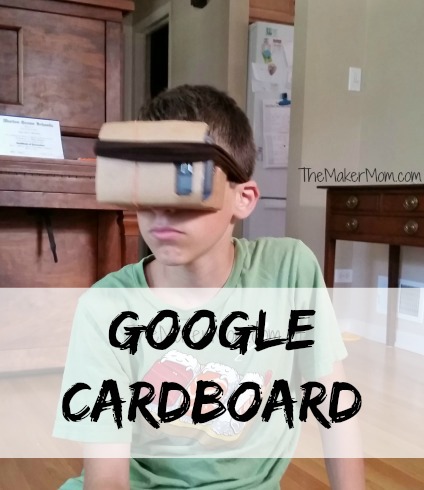 Oculus Rift is a new, next generation virtual reality gaming headset. A few months ago, I heard that Google gave each attendee at their I/O conference a cardboard, DIY virtual reality headset kit. I posted it on Facebook, where I share lot of breaking news and fun stuff. You should follow along. I must have passed the news along to my boys, too. Young Maker Teen decided he wanted make a Google Cardboard Virtual Reality (VR) headset at home. I highly recommend this project. It's an easy build, it's inexpensive and you'll impress the heck out of your friends.
Make a Google Cardboard virtual reality headset for less than $20!
YMT found and ordered a set of lenses, the Durovis OpenDive Lens Kit
, on Amazon (affiliate link).  Apparently that company has their own Oculus-like product. It appeared these lenses were ground by an old Bavarian man and shipped to the US on the back of an aged sea turtle because the estimated delivery date was about a month out from our order. Our expectations were exceeded when it arrived after just a few weeks. Just be aware that it's going to take some time to get the lenses, so plan accordingly.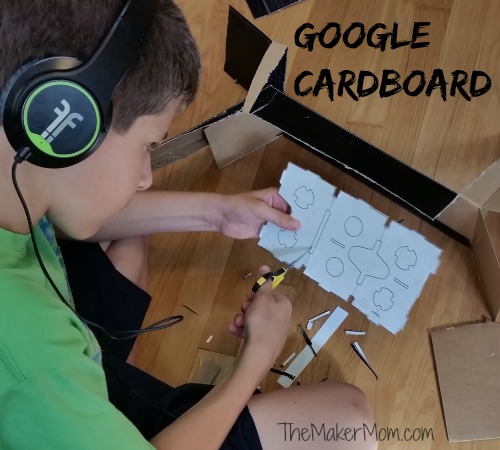 Also, much to my surprise, I had to sign for the lenses when they arrived via US Postal Service. If you're on the go maybe have them sent to your office or in care of a friend or relative who tends to be home a lot. As I mentioned, they arrived earlier than expected, so it's not like I could have even planned to be around; I just got lucky.
The lens kit cost $9.99 with shipping fees (for us) of just under $5.00.
We had all of the other the necessary supplies, cardboard, glue, scissors, craft knife, Velcro and magnets, on hand. We may buy the recommended magnets, but even that is less than a $5 purchase at the hardware store. Also, we've yet to apply the Velcro and have instead been relying on rubber bands to hold the headset together. Less elegant, but they do the job
Head to Google Cardboard for an assembly overview. Was that 0.5 second overview a bit too fast for you? No worries, use the scroll control on the far right of the screen to slowly review the steps, noting that the example is done with a pre-printed box.
Scroll further down the page to see the supply list and download the template. We used two different types of cardboard (corrugated, really) based on what we had around that fit the template. If we make another set, we'll try for elegance. This time around was just to see if we could do it.
You'll also want to download the "Cardboard" Android app which is also available at the site.
First you glue the template to the cardboard, noting where the template (which we printed on standard 8.5 by 11-inch sheets) overlaps and such.
Then you cut and cut and cut.
Then you fold. Here my son has the lenses in place.
More folding and holding together. As I mentioned we used magnets that we had on hand (you need strong ones!) and rubber bands and tape instead of Velcro.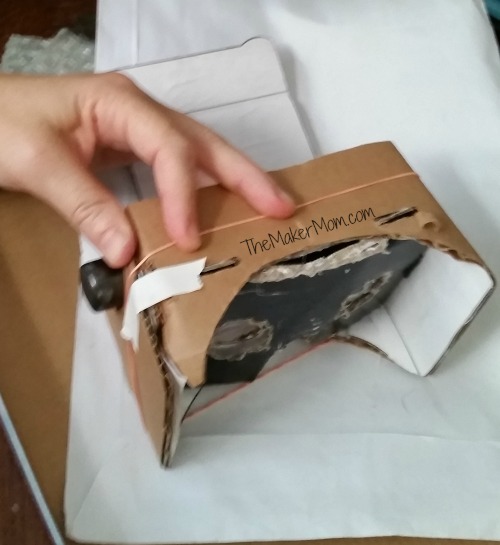 Ultimately, the smart phone slips in behind the lenses as you can see in that top photo. Our lens kit came with a headband that needs a little Velcro in order to use. A girl's headband mysteriously slipped out of one of my boys' backpacks(!) and it turned out to be just the thing to hold the Google Cardboard unit in place.
You can play around via the Google Cardboard app or Chrome Experiments. Ride a virtual rollercoaster and other fun things. My boys did something, I think through the Cardboard app called Photospheres, that allows users to take a series of panoramic pictures and then gives 3D tours based on those photos. You turn your head to look right, left, up, down. It's pretty cool!
I found that I was unable to get maximum effect with my glasses on. However, without my glasses thing are blurry because I have astigmatism. Even so, I got enough of the effect to appreciate the experience, not to mention feel a bit dizzy after a long "rollercoaster ride."
This project gets a full five-gear rating from The Maker Mom!



This is an affiliate link, but so far as I know, it's the only way to get the lenses, so I'm making it easy for you.