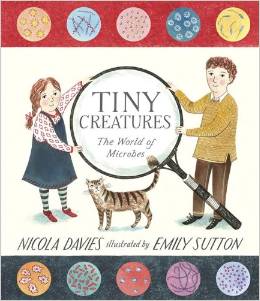 I'm not kidding when I say that microbes are the next big thing.  Barely a week goes by without some new report discussing our microbiomes, linking gut health with mental health or chronic illness. Take this piece from last week's Science Friday show (bonus you can listen to it; no eye strain required). That's why I'm excited about this:
A book about microbes for young children.
Tiny Creatures: The World of Microbes
 by Nicola Davies, illustrated by Emily Sutton (affiliate link). A book about "creatures so small that millions can fit on an ant's antenna."
The book does a good job of explaining microbes in a way that will help young children (5-8 years old) get a grasp of the teeny, tiny critters and their important roles in our world. The muted colors and simple illustrations provide a hip, retro vibe.
This book gets a thumbs-up, because I feel like microbes are going to be increasingly important to our health and our environments in the coming years, so why not help your kids understand them from a young age? That said, I wish that rather than feature two Caucasian children throughout the book, I wish they had included a multicultural cast of characters. Like microbes, diversity in children's books is also an issue that's under the microscope these days.
So, I like this book a lot. I think it's a fine addition to a home library and because of the topic it might be a nice buy for a public library, but I can't give it the official Maker Mom Seal of Approval because of the lack of diversity.
I was sent a review copy from Candlewick Press. This 40-page book retails for $15.99.