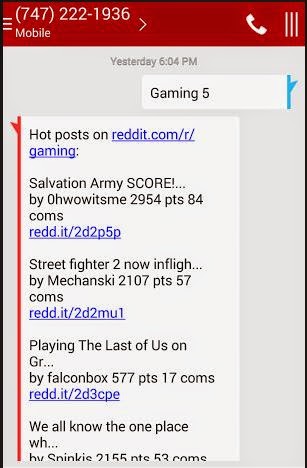 I'm super proud of the Older Maker Teen(OMT) for making something. Last week he created a really cool text app for that lets users get a link to a hot topic on reddit! Reddit is a popular news site, a social network, a community. It skews male and techy. Maybe young, too? At any rate, OMT was procrastinating on some back-to-school summer homework and created a cool SMS app that let's you text to get links to hot topics on subreddits, smaller discussion groups, or communities, with the larger community (community-ception).
Here's how the text app works
You send a text to (747) 222-1936 and include your subreddit topic and a number 1-5 and wait about 10-15 seconds and get a reply with links to the top discussions in that subreddit at the moment.
As you see in the graphic, my son texted "Gaming 5" and received links, as well as a summary that includes the post author, points (I think these are upvotes or positive reaction from the community) and the number of comments it received.
If your subreddit name contains more than one word, use an underscore instead of a space between the words.
Not sure if the topic you have in mind is a subreddit? Just text it and you'll get back a suggestion. For example, after trying several topics that didn't bring in any results, I thought, "Hmmm. The site has a male, young demographic. I'm going to try 'fat_chicks 2' even though I know it's obnoxious." Well, I didn't quite hit the mark, but I got a response asking me if I wanted "fatchickswithbigtits." Oh, reddit!
No, I did not click through to see potential responses.
Side note: it will warn you if links are NSFW. This a warning that came up on another search we did for a fairly innocuous term, or so I thought, "Imgur 2".
If you want to try the app out, start with a simple, happy, safe query like "kittens 3".
Want more than 5 links? See what happens when you ask for a higher number of results.
About the app
The app was created in Python, with Flask and Praw and the texting part if powered by Twilio. Or something like that. He shared the code on GitHub, so if you want to know more, leave a comment or message me somewhere and I'll find the link.
About the name
THOR stands for Text Hot On Reddit. I suggested What's Hot On Reddit, or WHOR, thinking that's would resonate more with reddit's target audience, but we weren't sure how well it would resonate with college admissions officers or people who might hire him, so THOR it is.
Give it a try! Regular text messaging rates apply, but there's no app to purchase or anything.