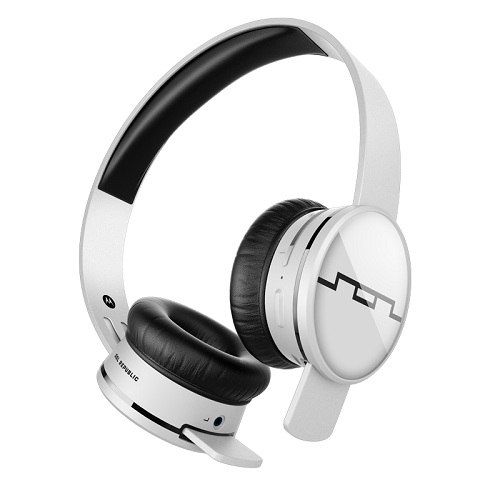 As a tech blogger, I get the chance to try out some cool products. Even better, I get to share products I like with you. Which is to say that I received a review pair of Sol Republic's Tracks Air SOL REPUBLIC Tracks Air Wireless Headphones (affiliate link)
wireless on-ear headphones and I'm giving a pair away to one lucky reader!
This giveaway is now closed. Congrats to our winner, Angie!
They require some very basic assembly. That is, you slide the "sound engines" (things that go over your ears) onto the trademarked Powertrack headband. I'm five-feet tall with a head sized for my proportions. When it comes to things like headphones, I often need to buy kid-sized products, but these adjust to fit me as well as all of the larger members of my family
The Tracks Air have great sound-dampening qualities. It turns out that I never bothered loading music on the phone I received earlier this summer*, so when I first tried the Tracks Air, I had nothing to listen to. However, the headphones did such a great job blotting out the background noise of a whining teen, I considered that first trial a success. Nothing to listen to, indeed!
Sol Republic's Tracks Air are compatible with most Bluetooth- and NF-enable devices. Even better, you can be up to 150 feet away from your device, quite a thrill for someone who hasn't had wireless headphones before. The headphones are easily (and quickly IME) charged via USB cable (included) and come with a carrying case.
The set also includes a single button cable with a mic if you want to stay wired. I can't think of any reason to do this other than to save battery life. Speaking of which, the battery has up to a 15-hour charge. When you turn the headphones on, they announce the approximate number of hours of battery life available.
The sound engines contain controls to turn the headphones on, adjust volume, a USB charging port, wired cable jack and each engine contains a microphone. Once you can remember which button does what, you're set.
Tracks Air are comfortable and the sound quality is very good. However, my son and I independently noticed that the volume does not go down very far. To borrow from the Spinal Tap joke about turning the sound up to 11, I'd say that the sound on these only goes down to 3. When I want music in the background, but am trying to concentrate, I like to have my sound down low, so this is a bummer.
Overall, though, these make for some sweet ear candy. If you want to send off a high school senior in style or are looking for a fun gift for a student who has selected a college, check out Sol Republic's line of college-themed headbands.
You can find Tracks Air and other items from Sol Republic at Best Buy and other retailers, but before you rush out to buy a pair, enter The Maker Mom's giveaway!
Win a pair of SOL REPUBLIC TRACKS AIR
Fill out the Google Doc below to enter. 
Enter by 1:00 PM CST on 8/11/14
. Must be 18 to enter. Open to US and Canadian residents. Retail value of prize is roughly $199 US dollars. Winner will be chosen at random and I will notify the winner by email. If the selected winner does not respond within 72 hours of notification, a new winner will be selected. One entry per person.

I received a pair of Tracks Air wireless headphones for review. All opinions are my own.
*In one of those instances of things that seems like a physical impossibility but happens to me anyway, my old phone got run over by a car. Don't ask.

Like The Maker Mom on Facebook. Subscribe to our monthly newsletter. Follow us on Pinterest and YouTube. Follow The Maker Mom on Google+.