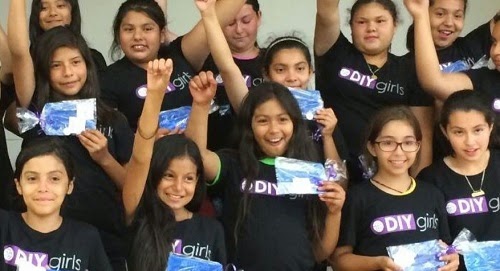 Last fall I wrote about the crowdfunding campaign from a cool group called DIY Girls. Today I'm shining the spotlight on the group's founder, Luz Rivas. Luz is the daughter of Mexican immigrants and grew up in the Pacoima neighborhood of Los Angeles. After learning to program in 5th grade, Luz decided to pursue a technical career. Her persistence led to an acceptance to MIT. She has a Bachelor of Science in Electrical Engineering from MIT and a Masters in Technology in Education from the Harvard Graduate School of Education.
I read that when you were young, you decided to work with computers and be an engineer. However, at the time you didn't realize those careers were male-dominated and very challenging. By the time you enrolled in MIT, you must have figured out those things. What was that awakening like?
When I was at MIT, about one-third of students were women and the percentage was much less in my department –  Electrical Engineering and Computer Science, probably close to 20%. Most of the men in my major had so much experience working with electronics and programming computers. They had done this for fun using electronics kits given to them as toys or through school. I wished I had more hands-on experiences and felt like I had to ask so many more questions from TAs. I think by the time I graduated I adjusted to being in majority male classes.
Where did the idea for DIY Girls come from and how were (are) you able to make it a reality? 
I've been working in STEM education since 2001 mainly managing out-of-school STEM programs. I rarely saw a woman of color lead the STEM organizations I interacted with and I thought it was important to step up and change that so I spent a few years working on my own personal development to be prepared to be a CEO. I grew up in a majority Latino community in Los Angeles where it felt like there were rarely innovative programs or if there were some in Los Angeles they usually didn't offer them in my community. Latinas represent only 2% of employed scientists and engineers in the US and  DIY Girls addresses this extreme inequality by offering girls access to tools and equipment so they can create real products and learn about STEM careers.

What are the advantages of out-of-school STEM learning?

One of the biggest advantage of out-of-school STEM learning is that students can spend more time on projects while developing skills. We can do anything and take as long as we want.
What is your Big Picture vision for the organization?
DIY Girls is growing and my board, staff and I are currently working on a strategic plan for the next few years. We want to assure that we are having impact while serving girls as they grow with us from 5th grade to high school graduation. I envision a community of women and girls that collaborate to create new products and discover interests and fields that are interdisciplinary.
You've had several helpful mentors. What advice do you have for girls on developing these types of relationships? 
It takes time to develop relationships. Sometimes you don't realize how someone can be helpful to you in the short term, but you should still try to maintain the relationships. I've had people help and mentor me after years of knowing them.

Like The Maker Mom on Facebook. Subscribe to our monthly newsletter. Follow us on Pinterest and YouTube. Follow The Maker Mom on Google+.