I don't care what your kids read this summer, but please keep them reading! As a mom to two voracious readers, I expected them to be all over the summer reading clubs as elementary schoolers. You know, a chance to earn meals, toys, ice cream just for doing what they love to do! But that either messed with their value system or they were just too lazy to record the title and authors, let alone a few thoughts on each book they read in exchange for ice cream. 

Here are a few fun reading club options in addition to programs from your children's school or local library that go well with this recommended reading list for Maker Kids from Make Magazine. And don't miss my book picks.

**Don't miss my catapult, trebuchet, or robotic arm giveaway running through July 11, 2014**

I recently attended a blogger event at Chicago-area hamburger chain Meatheads to learn about their Voracious Meatheads summer reading program for kids under 13. By reading by 5 books, they'll earn a kids' burger. They can turn in one book list every 30 days. Bonus: I learned that Meatheads offers more than just burgers (chicken,Vienna hot dogs, grilled cheese) and they'll wrap burgers in lettuce if you want to go bun-free. Oh, and I was introduced to Ketchipotle!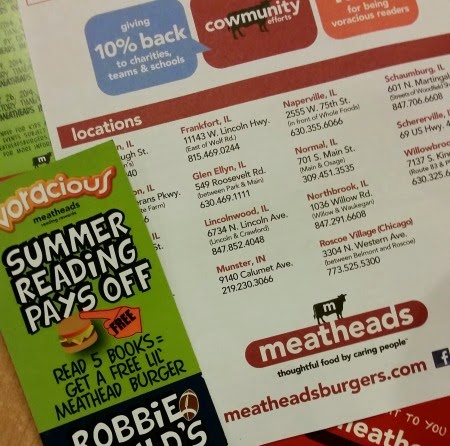 The Scholastic Book Club runs through September 5. Register your child and log their reading minutes to earn digital rewards.

The Barnes and Noble Summer Book Club is another favorite. After reading 8 books, your child can choose a free book from a special selection. Read and submit early to have the best choice.  

Looking for more than just reading?

Check out the Summer Brain Game program club allows participants to earn a ticket to Chicago's Museum of Science and Industry.

More summer fun from The Maker Mom.