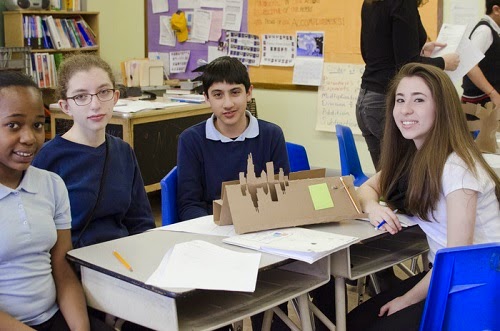 Nettelhorst students showing off their design work.
I referenced the Science and Entrepreneurship Exchange (SEE) program at Chicago's Nettelhorst School program in the recent STEM girl post on local inventor and Kickstarter success story, Lily Born. The 8th graders in the SEE program have Kickstarter project of their own that is worthy of your support–what a great holiday gift to or from a friend with Chicago connections. As of this writing, the kids have raised an admirable $6,643 toward their $10,000 goal, but they've only got 13 days left (including a holiday weekend) to top it off.


Just as some advocate for STEAM, STEM + Arts, others advocate for the equally important STEEM, STEM + Entrepreneurship. Given the high failure rate of start-ups, this kind of education makes sense. But it's not on the test! So how does Nettelhorst school manage to maintain this innovative program?
I interviewed the two women who head up SEE, today's STEM Moms, Melissa Porter and Deb Decker, to learn more about the program that brought this Kickstarter campaign to life.
What is SEE?
SEE stands for the Science and Entrepreneurship Exchange (an Illinois not-for-profit), founded a few years ago to introduce elementary school students to a hands-on learning experience with a focus on STEM concepts. Currently impacting over 250 elementary students across 4 grade levels, SEE students have the opportunity to identify problems, and work as a team to solve them through research, brainstorming, and prototyping. Our goal is to help foster the next generation of innovators and entrepreneurs in elementary schools.
The mission of the organization, and the opportunity to be part of an exciting movement in education really appealed to both of us, so we joined the team as parent volunteers! Together with Northwestern University mentors and designers from Beyond Design Studio, we brought the 8th grade program to life!
(Deb) The program became more than just another "volunteer gig" for me somewhere along the way. I was truly taken by the way these students really sparked to this unique learning experience. I've always believed that children (and adults) learn best when they can get their hands dirty. Putting concepts into practical application and seeing a real product come to life as a result was mind-blowing! I'm proud to be a part of this movement to let kids work through problems and creatively explore a variety of paths to find the answer.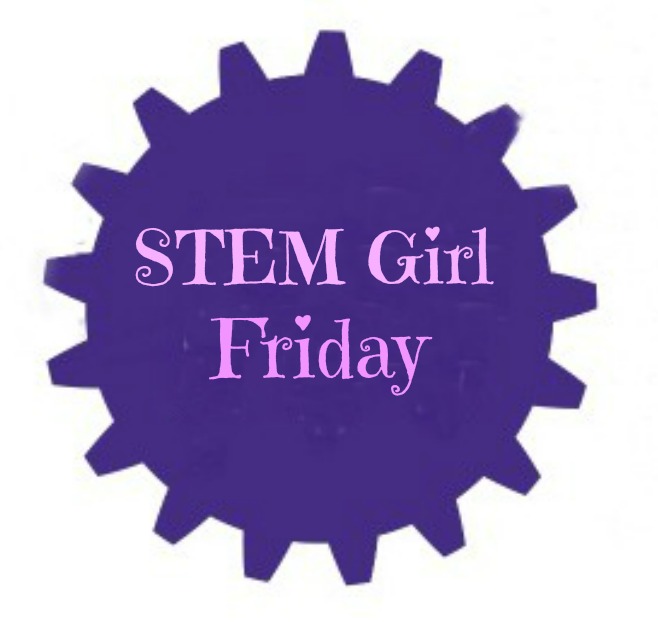 What are some of the key benefits or take-aways for the students?
The students walk away with the confidence to communicate their ideas to a group and enjoy the rewards that come from the collaboration process. They understand how to cope with the disappointment of not having their idea move forward, and celebrate the success of seeing the efforts of the group break through.
Students are exposed to all of the trials and tribulations of a real world start-up. The program takes them out of the classroom and into environments like Northwestern University and professional design studios, where they see the processes they're learning in the classroom used to solve real-world problems. For some kids, these site visits become critical turning points in their pathway to career options.
Many students have a limited view of what options are available to them beyond high school. SEE exposes them to a myriad of important career paths; from product design, engineering, manufacturing, marketing and entrepreneurship. Because we partner with Chicago business leaders and university students, the students get the benefit having these important people take interest in them in a meaningful way. For some kids, that makes all the difference in choosing to participate and be part of something great, or sitting idly by. The kids understand that there is a large group of people investing their time, expertise and enthusiasm to see them succeed, so they rise to the occasion.
This sounds like an amazing program full of deep learning for the students, but with an increasing emphasis on testing in public schools, how does the school fit this in?
The reality of these rigorous testing schedules means that, unfortunately, students and teachers must spend critical instructional hours "teaching to the test." While Chicago Public School administrators are held to these obligations, we are so proud of Principal Cindy Wulbert, at Nettelhorst Elementary School. She took a leap of faith in this climate to dedicate time and teacher support to allow kids to participate in the SEE program. She recognizes the benefit of this type of experiential learning and ia excited to have Nettelhorst students be pioneers of this program.
We also align our curriculum with the Common Core standards, so that our lesson plans work in accord with what teachers are already teaching during the regular school day. Students start making real connections with these Common Core concepts by applying them to real-world activities, like estimating profit margin.


Are other schools in the CPS system (or even outside of it) trying to bring in this program?
Currently SEE programs have been piloted exclusively at the Chicago Public School, Nettelhorst, in the East Lake View neighborhood. We're working to get the funding necessary to keep this program alive at Nettelhorst and to bring it more schools within CPS…and beyond! We were fortunate that Nettelhorst was chosen to be one of a few recipients of a $25,000 grant from the Roberts Award Foundation, and we will be putting those funds to use on further developing the 8th grade program at Nettelhorst for its 3rd run. We've received emails and phone calls from schools all over the country with an interest in implementing the SEE program. Now it is just a matter of working through the steps to "productize" this curriculum. We are entrepreneurs, moving through the very process we take the 8th graders through! We hope to have a SEE product ready for marketing and distribution in the very near future.
Any advice for a parent, administrator, or community leader who wants to implement SEE or something like it at their school?

If there are educators, parents, STEM enthusiasts interested in bringing SEE to their school or organization, they can email contact@see-chicago.com. Our website is still a bit of a work in progress. If there are other schools or community centers offering similar programs that encourage inventing and building businesses around those inventions, we'd love to hear about it!  This movement can create a powerful shift along a trail blazed by an impressive group of kids!
Anything else?
Our 2014 SEE8 program resulted in the creation of the product called Smart Mail. The 50 Nettelhorst 8th grade students, worked through the SEE8 process from ideation, research, prototyping and concept refinement.  The result of this process was 8 product ideas, which were presented by the 8th graders to an esteemed panel of judges (some of Chicago's finest inventors, entrepreneurs, educators and business leaders). The judges evaluated each product concept based on the information shared in the presentations to determine which product would be most viable in the marketplace and should move forward to manufacturing.  In the end, that product was Smart Mail.
The last hurdle for the students in the SEE8 process is manufacturing and distribution, and both require a LOT of money. So, they took their product concept to Kickstarter and launched their first campaign in mid-June. With a funding goal of $10,000 and less than 2 weeks to go, the students are taking an active role in the Public Relations needed to reach that funding goal. Under SEE advisement, a small group of 8th graders reached out to local Chicago media outlets with their story. The result was a feature on the Chicago Tribune's Blue Sky Innovation segment.
Another big win for our 8th grade "PR Team" was the opportunity to be featured in NBC 5 Chicago's "Making a Difference" segment with legendary reporter, Art Norman! The segment is scheduled to air within the next couple of weeks, ideally before our Kickstarter campaign ends on July 10th.
The Kickstarter campaign was another massive learning experience for the students as they worked through writing copy, building pledge levels and mastering video production. If the campaign is fully funded by July 10th, the students will get to see their Smart Mail product go to manufacturing and ultimately shipped to homes and offices for use. For the students, seeing the number of backers increase everyday is the real validation; that what they have done here as middle school kids, is truly remarkable. For us, witnessing the next generation of innovators and entrepreneurs take flight, that's the win!

Like The Maker Mom on Facebook. Subscribe to our monthly newsletter. Follow us on Pinterest and YouTube. Follow The Maker Mom on Google+.