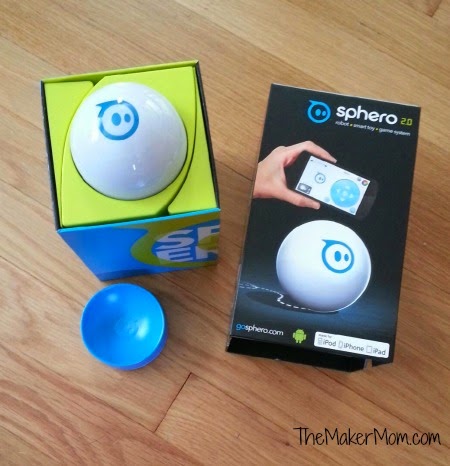 Sphero with charging base and ramps.
I'm pleased to announce that I'm a Sphero Ambassador. This is a sponsored post as part of my work with the brand.
This giveaway is now closed. Congrats to GR, entrant #42, chosen by random.org.
The summer slide refers to academic skills that slip and dip over the summer when reading and writing take a backseat to swimming and s'mores. Some parents head off the dreaded slip in academic skills with a vengeance, loading up on shiny pencils, workbooks and flashcards in the name of summer learning.
Bleh.
Admittedly, I did that too back when my oldest was in first grade. But he's not one for workbooks and neither am I. Reading logs? Forget about it! In fact, I usually do forget about them. From what Facebook tells me, I'm not alone in this regard.
Happily, we've always been able to keep the summer slide at bay, and even turn it into the summer soar,by having fun and doing our thing– visiting zoos and museums, sending my boys to enrichment camps that make science fun and making regular visits to the local library.
If you don't have eager readers on your hands, give them full control over what they read this summer, it might make a difference. If you're concerned about exposing them to classics, read those aloud to your family or pick up books on tape (which are CDs or apps these days). I was admittedly a bit nervous the summer that my younger boy read almost nothing besides the library's entire collection of Garfield comic collections (several times over), but in the fall his MAP reading score still shot up.
Turn off the TV and other screens for a few hours each day to make board games, books, and other creative play more attractive options. But not all screen time is created equal. There's screen time for learning and doing and there's screen time for, say, SpongeBob SquarePants.
As a Sphero Ambassador, part of this summer's screen time for learning and doing will be spent with Sphero 2.0, the world's first robotic ball. (Giveaway below!) Run by a smart phone or tablet (Apple products and Android and, as of the other day, Windows devices, too) via Bluetooth within a 100-foot range, children 8 and up can drive the round robot, turn it and flip it, as well as make it jump, dance and change colors.
Sphero is neatly packaged with two ramps, a charging base, a quick start guide and information about Sphero apps. It normally retails for $129.99, but Sphero 2.0 is on sale for only $99 from now until June 15. I also received a Nubby Cover, a rubbery shell that protects the orb and also gives it greater traction. The Nubby Cover retails for $14.99.
When I unboxed Sphero for my boys, 14 and 16, I thought they'd roll their eyes (as teenagers are wont to do) but they loved it. "It's so cool!" they exclaimed.
I was also cynical about Sphero's pet-proof claims. Would this hard plastic orb survive the jaws of destructo-dog? Yes, it really does, and my boys are having a fabulous time driving the dogs nuts with the Sphero. And it's a win for me because I can get work done while they're all playing.
Another great thing about Sphero is that it's a high-tech toy that inspires a lot of old-school creative, open-ended play. My boys can choose from more than two dozen free apps to play with Sphero. They can turn any room into an obstacle course with boxes and tubes from my makerspace (not to mention piles of school papers, etc.) or use augmented reality to chart the course.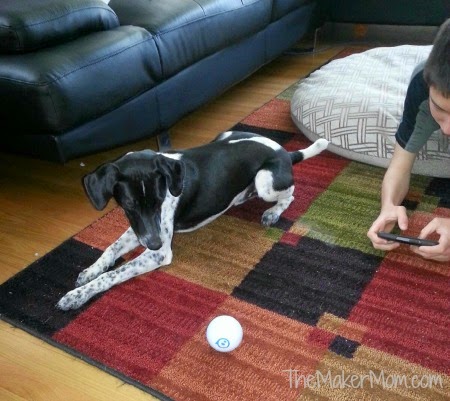 Learn to Code with Sphero
Yes, you can have fun with Sphero as an ROV (Remote Operated Vehicle) and there's value in that alone, but you can also take it from tech toy, to STEM teaching tool by helping your kids code Sphero. Or maybe your hi-tech kids will help you develop your computer programming skills. Sphero can be programmed in BASIC (remember that?!) as well as Scratch and several other popular languages.
Programming with the Sphero is comparable to programming the Finch Robots now available at Chicago Public Libraries throughout the city. Both can be programmed to change color, blink, and move. The Finch, however, was designed as a classroom robot and is tethered to the computer which limits its usefulness beyond the classroom. Both are $99 right now, but for your money, you'll get more fun out of Sphero for home use.
Check out the Macro Lab Tutorials to learn more about programming Sphero. Click to get started using Scratch for Sphero. GitHub has additional material.
Sphero Rangers provides additional support and real-life meet-ups. There was one in Chicago a couple of months ago. I've also picked up ideas by following Sphero on Twitter.
I love toys that allow for open ended play. That kids can also program Sphero and use it to interact with the real world is a bonus. The Maker Mom likey. I think you'll like it, too!
One lucky reader will win a Sphero 2.0
Fill out the Google Doc below to enter. Enter by 1:00 PM CST on 6/22/14. Must be 18 to enter. Retail value of prize is $129 US dollars. Winner will be chosen at random and I will notify the winner by email. If the selected winner does not respond within 48 hours of notification, a new winner will be selected. One entry per person.
Follow Sphero on Facebook and connect with on social media with the links below for good karma. Like The Maker Mom on Facebook. Subscribe to our monthly newsletter. Follow us on Pinterest and YouTube. Follow The Maker Mom on Google+.