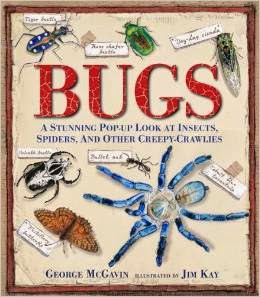 As a recent Science Olympiad entomology event coach, I look at creepy crawlies insects in a new light. So when the folks at Candlewick Press offered to send me a review copy of Bugs: A Stunning Pop-up Look at Insects, Spiders, and Other Creepy-Crawlies
 (affiliate link) I eagerly accepted.
Bugs, written by George McGavin and illustrated by the detail-oriented Jim Kay, is surprisingly informative for a book that's only 12 pages long. And don't be fooled by the pop-up aspect, this book is good for anyone wanting to learn more about insects and their habits. That said, it was designed with kids ages 7-10 in mind.
The book is fun to explore with flaps to lift, pieces to pull out, down, up or to the side. Bugs starts with an overview of the phyla of arthropods and then focuses on insects. It provides an overview of body parts and how they might differ. For example, mosquitoes only have a single pair of wings, but bees have two pairs. The book also provides an overview of bug life cycles, habits, habitats and importance to society. (Speaking of which, it's National Pollinator's Week!)
The highlight of the book is a cockroach centerfold. Yes, I really typed that. It's an impressively-engineered multi-layer pop-up that enables the reader to do a virtual dissection down to the roach's innards.
My main criticism of the book is that the type is a bit small, but of course, I offer that up a a middle-aged reviewer (who needs to update her glasses), not the book's elementary school student target. This is a nice book to consider adding to your home's nonfiction collection as it can be enjoyed over time.
Candlewick also sent me a copy of Flight of the Honey Bee, which was good enough to mention, but not worthy of a review.
Remember to enter the Sphero 2.0 giveaway!
Like The Maker Mom on Facebook. Subscribe to our monthly newsletter. Follow us on Pinterest and YouTube. Follow The Maker Mom on Google+.