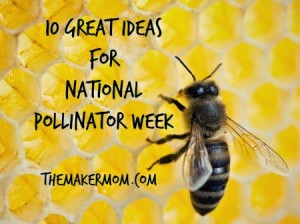 Do you enjoy the juicy taste of fresh berries, crunchy almonds, or melt-in-your-mouth chocolate? Thank a pollinator for those delicious foods. Here's how you can appreciate Mother Nature's busy workers during National Pollinator Week and beyond.
10 Ways to Celebrate National Pollinator Week
1. Get to know your pollinators. Bees often come to mind when we think of pollinators, maybe because of their sweet honey, but hummingbirds, bats, small mammals and insects including beetles, bees, ants, wasps, butterflies, and moths also pollinate flowers. The wind can be a pollinator, too.
2. Get to know your local politicians. Does your town allow backyard beekeeping? If not, look into making this legal.
3. Not sure how to plant a pollinator-friendly garden? There's an app for that (iOS and Android)!
4. Build or buy a straw house for mason bees (they don't produce honey).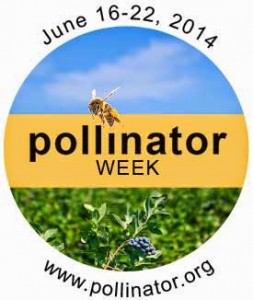 5. Can bees do geometry? Learn how they make those lovely hexagonal honeycombs.
6. Help a feathered pollinator by making a hummingbird feeder.
7. Get involved in a bee-related citizen science project like ZomBee Watch, Bee Spotter, Bumble Bee Watch, and, for my fellow Illinoisans, the Illinois Butterfly Monitoring Network. On a related note, listen to what a group of Illinois middle school students are doing to help our state insect, the Monarch butterfly.
8. Watch these stunning clips of pollinators in action.
9. Read up on RoboBees. Might we one day rely on these mini-robot bees to not only pollinate crops, but also survey and map them, as well as aid in search and rescue efforts as well as monitor traffic–and maybe you, too?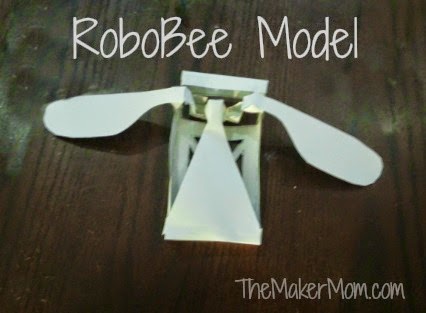 10. Celebrate! Find a National Pollinator Week event near you. If there's no event near you, invite friends over for a party of your own. Serve tea with honey and sweet treats while you spread the buzz about the importance of a pollinator-friendly yard.