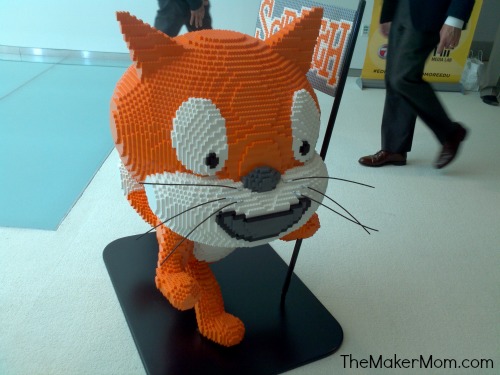 Saturday May 17 it's time for Chicago tweens and teens to let their Code Phreak flags fly at Scratch Day Chicago. Once again, the wonderful Brian Myers is heading up the festivities, which will take place from 9 – 3 at West Ridge School on Chicago's north side.
Scratch Day Chicago 2014
Now in its 6th year, Scratch Day Chicago is going to be bigger and better than ever (and not just because the two Maker Teens and I are part of the event). This year's event partners include Google Chicago, CSTA- Chicago (Computer Science Teacher's Association), the aforementioned Code Phreaks, and No Starch Press, purveyors of much geeky goodness.
I noticed last year that some families drive hours to make it to the event. Typically, at least a handful of attendees only know each other through the online Scratch community and this will be their first ever IRL meet-up. It's just one of the many things that makes the day special.
There's more:
Free pizza lunch!
Different sessions for different levels of programmers.
Other fun stuff like:
#OMGRobots: Finch Robots, Lego Robots, Vex Robots!
Older Maker Teen explaining Finch Robots to Chicago Mayor Rahm Emanuel.
Programming challenges including a chance to try MIT's App Inventor and Starlogo
A special workshop hosted by Chicago Girls in Computing
Project Showcase: Participants share their best projects on the big screen
Parent program
Giveaways like a Raspberry Pi, Arduino microprocessor, an official Scratch tote bag from MIT, or a book from No Starch Press.
Scratch Day is an international event, or rather, a series of them. Not each location celebrates on the same day, but a dedicated day takes place in many countries (and US states). Find one near you!
And if you're in California's Bay Area, there's something else going on this weekend that's just as (okay, maybe even a bit more) exciting–Maker Faire.

Like The Maker Mom on Facebook. Subscribe to our monthly newsletter. Follow us on Pinterest and YouTube. Follow The Maker Mom on Google+.