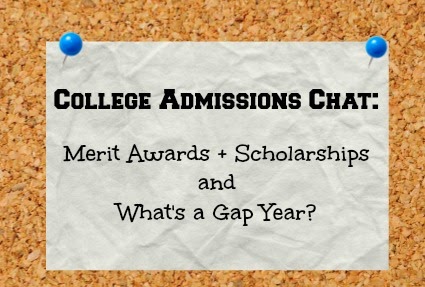 Sometimes I don't know what to post where. As we begin to explore college options for my boys it feels like information that belongs on my personal blog. Yet I know the majority of readers of this blog have college-bound kids and may be hungry for related information, so here goes.
What do parents need to know about merit aid and scholarships for college admissions? Find out Thursday, May 15 at 1:00 Central. I'm hosting my third Google Hangout On Air with Jen and national college consultant Susan Goodkin of  the California Learning Strategies Center.
This month we'll talk merit aid, scholarship dollars and the value of a gap year. If you miss the conversation live, you can always watch it later on YouTube. Even so, you can leave us related questions here right now (or in the comments below) and we'll weave them into our discussion.
Our discussions are quite informative, so if you've got a child in middle or high school and are starting to explore colleges, I encourage you to join in or at least give a listen.
During our April admission chat we talked about 2E kids, SAT subject tests, the Fisk guide and more. Click for a recap. And you can watch (though I find these better for listening) the March College Admissions Hangout.

Like The Maker Mom on Facebook. Subscribe to our monthly newsletter. Follow us on Pinterest and YouTube. Follow The Maker Mom on Google+.