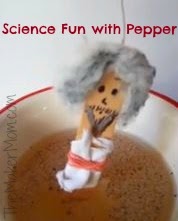 Yesterday I shared my recipe for the insanely addictive Matzah Crack, and now that we're even closer to the Pesach finish line I'm sharing a idea for the seder. A seder is a festive holiday meal held the first night (or two) of Passover. (Yes, that was last week if you're counting.) The term seder means "order" and there is a special order to the meal. Some version of the story of the Exodus from Egypt is told, which can last anywhere from five minutes to five hours. For children, the seder often feels like it lasts for five hours regardless of how brief it may be.
In recent years, many efforts (at least outside of Orthodox Judaism) have been made to make the seder more engaging for the younger crowd. So when our family had a gaggle of cousins in the under-10 set, I tried this out one year.
It's super easy and quite dramatic, even if you leave out the story of the Exodus. That said, it does pair well with a story if you've got a knack for spinning yarns. And you can use your finger instead of a popsicle stick Moses.


If you want to turn this from science fun into a science experiment, think of variables you can change. For example, will the effect change depending on the type or brand of soap you use? Is the effect more dramatic in a small bowl or large one? Does this work with other spices?