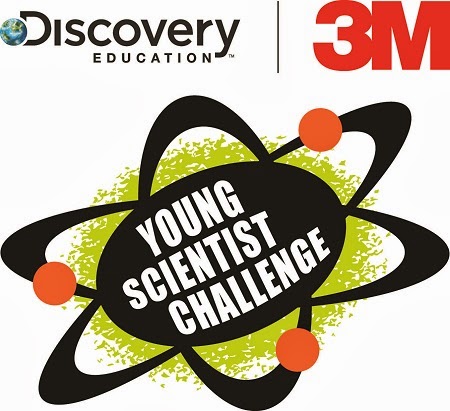 The April 2014 #STEMchat Sponsor
There's still nearly a week left to enter the 2014 Discovery Education 3M Young Scientist Challenge and if you're  looking for last minute ideas or tips to inspire your child to be named America's Top Young Scientist, keep reading!
This was one of our liveliest #STEMchats ever with 175 participants. Of course we had a wonderful group of panelists to keep the discussion moving ahead and a fabulous sponsor.
This chat was so robust, the summary of tips to raise wonderful young scientists will be presented in two parts. This post contains affiliate links.
How to Raise a Young Scientist, Part I
How do you teach your child to identify problems—or more importantly potential solutions?
Blog post on the topic at Engage Their Minds "How 'why's' can make you wise."
Foster problem-solving practice, encourage struggle, give them space.
Have kids read the newspaper and choose topics or stories of interest
Ask children questions that lead up to identifying problems.
Let them fail and learn to recover and move on. Failure = data and opp for learning. Video games can be helpful for this, hard to level up without failing.
Revisions are part of the process.
Listen, really listen to them, encourage them to ask questions and take time to help them find the answers themselves.
Allow time and space for hands-on learning and exploration.
Instead of fixing broken things for them, have them do it themselves.
Have them draw solutions. This is sometimes better than talking.
Ask them how things work. Help them see the STEM that is all around us.
Challenge them to turn complaints in to solutions.
Encourage natural curiosity.
Don't give answers, help them find them.
Encourage: creativity, asking questions, problem-solving.
Studies show that interest in STEM starts to wane in middle school. How do you keep kids engaged at this age?
Nurturing curiosity which tends to lessen after kindergarten. Encourage problem-solving as they continue through elementary school.
Middle schoolers must experience STEM outside of the textbook: use real-world problems, connect with mentors and professionals via Skype.
Instead of traditional reports have them draw comics to restate and reconceptualize their learning.
Use in-school science that has a WOW factor (exciting!).
Work hard to keep girls engaged.
Start at a young age enforcing everyone's potential.
Provide maker spaces and opportunities to tinker– informal education that allows for open-ended learning as well as afterschool programs and competitions- Science Olympiad, Robotics leagues, 4H, scouts, etc.
Student-created opportunities as opposed to ones the teacher serves up.
Help them understand that if they know how the world works, you can make and fix things
Teacher or leader's enthusiasm for STEM is contagious. Same thing if they see their peers taking interest or excelling in STEM.
Rely on rote memorization only when it's critical to do so. Instead, focus on exploration, observation and experimentation.
Get physical- have them build things, design prototypes.
To truly foster creativity and a love of STEM, we must rethink how we measure accountability.
"Step aside and be the guide."
Rachel Carson's book,
The Sense of Wonder
.
How do you help kids ask questions about things in their everyday life so they look beyond the lab or classroom?
If you don't know how something works, have kids look it up and explain it to you.
Looks for answers in books and encyclopedias, not just online. Have them ask a  librarian.
Get into the kitchen cooking science = chemistry.
Ask questions like "How might…?" and then step back and listen.
Encourage hands-on exploration with topics of their choosing.
Knitting = math, architecture is engineering, sports is physics, photography is chemistry.
If you inspire kids to find answers to their questions, they will keep asking great questions.
In addition to autonomy, give them a sense of purpose.
Be a model of lifelong learning.
Include cool robots, physics/chem show at school assemblies and pep rallies.
Turn off the TV talk as a family, play games, get outside.
For HS kids, game design is a strong incentive for learning how to code.
Movies and show to watch:
Apollo 13
to see ho the astronauts improvised with stuff on hand to save their mission (and lives).
Design Squad
MacGyver
How It's Made
There was a parent who said her child was interested in forensics:
CSI
Bones
Quincy, ME (old show; I loved it as a child)
Poisoner's H
andbook from PBS
Tell kids they will do amazing research if they start with a question that's really bugging them.
Use everyday materials to design things and build things to solve problems. Look at a paperclip as a tool.
Panelist
Kitchen Pantry Scientis
t has a lot of fun ideas for at-home science (she also has a free app and a book, 
Kitchen Science Lab
,
coming out in late summer 2014).
Step outside, Mother Nature has plenty of wonders and mystery. Investigate plants, flowers, insects, clouds, animal footprints, whose scat is that?
Present students with STEM role models taking care to include women and minorities in STEM.
Draw attention to everyday incorrect assumptions and peel the onion of questions using the Socratic method.
Other Resources:

Entrant to the Young Scientist Challenge share their ideas with a video. How do you help your child hone his/her communication skills?
Teach/model the importance of asking the right questions.
Leel Lefever's
The Art of Explanation: Making your Ideas, Products, and Services Easier to Understand
.
One teacher mentioned starting a
TED-Ed Club
next year.
Help them be themselves and let personality shine through. Practice again and again)!
Show them good presentations and videos.
Record your kids talking unscripted. Have them review it, take notes  and try again.
Get them used to making brief, impromptu presentations. They will get better/more confident over time.
Help them prepare outlines.
Blog!
Let them know it's okay to make mistakes–there's always room for improvement.
Let kids report on area of interest, passion to let enthusiasm shine through.
Let them use technology to present ideas- Power Point, Scratch, blogs, email or go old school with live skits.
Watch great YouTube channels like
The Brain Scoop
for example of relaxing and talking science casually. Also recommended:
V Sauce
,
Vi Hart
,
Explainer TV
and
Numberphile
.