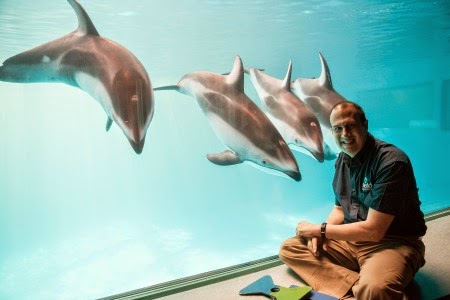 Photo by Brenna Hernandez via John G. Shedd Aquarium
Leticia and I partnered one again to bring you an interactive Google+ STEMchatOnAir! Our latest topic:
How do you become a dolphin trainer?
Ken Ramirez shared his thoughts. He basically has the job I once wanted, but no one ever laid out a career path for me. BTW, Leticia once dreamed of being a marine biologist.
Ken Ramirez is the Executive Vice President of Animal Care and Training at Chicago's John G. Shedd Aquarium. He's a biologist and animal behaviorist with more than 35 years of experience under his belt. He began his training career working with guide dogs for the visually impaired and has maintained a close affiliation to pet training throughout his career. In fact, Ken once hosted two seasons of the pet training television series, Talk to the Animals, which compared pet training to the important work done with training and caring for animals in zoological facilities.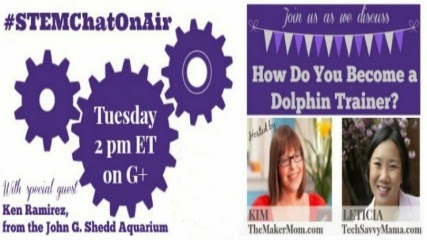 You can watch the discussion here, but there's not much to see, so feel free to hit play and just listen as though it was a podcast.
Technical Tips for Joining a G+ Hangout On Air
obligatory photo of me at the dolphin lab
Like The Maker Mom on Facebook. Subscribe to our monthly newsletter. Follow us on Pinterest and YouTube. Follow The Maker Mom on Google+.