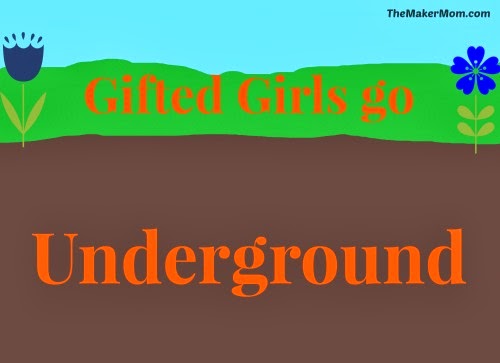 I've decided to throw my own little Throwback Thursday on The Maker Mom dusting off a few of my classic posts on gifted education. This piece about gifted girls has proved to be very popular over the years. It was originally published on my personal blog in March 2009.
I don't know what I'm doing when it comes to my high-ability G/T boys. I'm muddling through like the rest of you. When it comes to gifted girls, I'm especially clueless, so I was thrilled when one of my real life peeps, IRL Julia, accepted my offer (pleading, really) to share her thoughts as a mom of a grade-skipping gifted girl. Drop me a note if you'd like to share guest post on raising gifted kids.

There has always been something up with my daughter. She isn't the more show off – hyper-verbal, passionate, dramatic kid that my son is. She is more behind the scenes, not a big talker (or listener for that matter) but not asleep at the switch either – a child, as my mom likes to say, "with a rich inner life." This would account for her ability to play with a change purse full of buttons for HOURS as a toddler.

We didn't really think much of that fact that in pre-school ALL the kids she wanted to play with were a year older – her brother is older, she's used to older kids. We didn't even think too much of the fact that all the kids she wanted to play with were either older, scary-smart girls OR older scary smart, drama queen girls. It never even occurred to us that in her own way, she was holding her own against their complicated social shenanigans (that eventually led to a series of parent teacher conferences for a number of families – complete with behavior charts – and stickers).

We DID think a lot about the fact that she refused to recite the alphabet or count for us – preferring instead to cry and pull her hair and were really thankful that she had a fall birthday that gave her an extra year in preschool. So it was much to our surprise when in kindergarten, it turned out that our sort of quirky, spacey, mostly quiet daughter was in fact operating as if she was in first grade (where she ended up mid-year) and was in fact a few grades ahead in math. I mean –we always knew she liked – and was good at math but really. This is all to say that I've always had this sense that she was smart – but I've never really been able to articulate it. Guess what – she's in third grade now and I STILL can't.
Gifted Girls and Gifted Boys
Hence the life with many smart or gifted girls – at least according to the internet articles I read (see below for a partial list). When my daughter got to her first grade classroom it became apparent that there were LOTS of smart girls in her class and that they operated (at least in a public school setting) VERY differently than smart boys – or at least MY smart boy and his smart friends.

The boys are much more what one might expect when thinking smart kid – in that they are obviously smart. They use big words. They read books that are obviously above their age group. They explore what they are interested and talk about it to a maddening degree. They talk to adults – actually seeking adults out to talk to because adults get it- and they make friends with other kids who are interested in what they are interested in.

As a teacher at my kid's school said when I asked him how he knew my son, who hadn't had him as a teacher or was even in this teacher's grade, "All of us (teachers) know the kids who are smart and the kids who are discipline problems – they just stick out."
Gifted Girls are Different
The girls in my daughter's class are different than these boys. They are competitive – but not too competitive because they are all friends and want to help each other out and because having a group of friends more important than grades or homework or winning (although they do like winning).

They also don't want to stick out too much – which is why it is nice that there is a group of them. They want to be friends with all the girls in the class. They don't necessarily talk to adults in the same way – although they watch them quite closely. They want to be grown up and in the know.

This is only reinforced by what I've read on-line.

What I have also figured out is that at school (even well meaning, gender aware, socially sensitive schools) girls are much less likely to be thought of as being gifted or smart by teachers (at least at first) – because they are usually not intellectually disruptive, confrontational, needy or demanding in the classroom.
Under the Radar and Opting Out
Part of the giftedness of gifted girls seems to be the ability to really fly under the radar at school. This leads to other problems – like how can you be encouraged, mentored and paid attention to in appropriate ways if you are constantly denying that your talents exist?

I also see my daughter (and some of her friends) "opting out" of school because it is easy or boring or sort of irrelevant but they do so without letting their grades drop – or at least not too much. But to be honest- boys do this, too.
Solutions