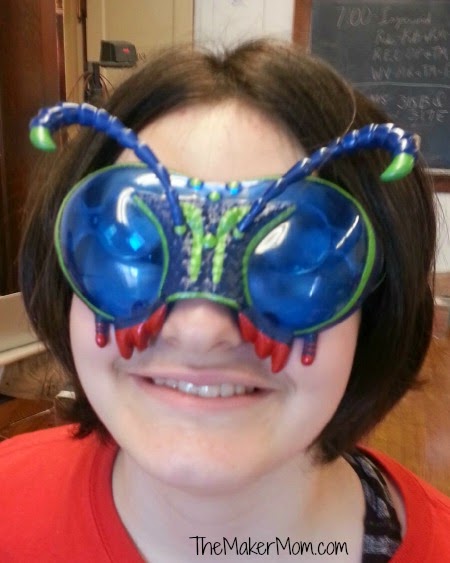 Between last weekend's exciting state Science Olympiad competition and Passover seders for the next two nights (I'm hosting 12 family members Tuesday evening), I'm low on bandwidth, but I want to take a minute to share the awesome performance of my entomology team. My girls came in the top five out of a field of more than 45 of Illinois' best teams! They know their bugs like a boss.
I saw that someone landed on this blog after searching for tips on teaching the entomology event in Science Olympiad, so I'll return at some point to share my award-winning advice. Really, though, the girls earned the win. I just assigned them homework each week. We studied bugs and even ate a few. (More about that too, eventually.)
Clearly I was meant to coach entomology, though. Goodness knows how long I've had those buggy glasses sitting around my office. Finally they got put to good use!
In other good news, our school team is back in the top ten after a poor showing in 2013! I'm leaving on a high note. After 5 years of student involvement in SO, including six "coaching years" between my husband and I, we'll be retiring upon our younger guy's graduation. That younger guy plans to continue on with SO in high school, so maybe I'll be back at state next year after all.
Well, I did say, I'd be open to some fun, informal insect exploration over the summer when the bugs are actually out. So maybe I'm retiring in the fall. But I'm retiring.
On a related note, kudos to the two dads who volunteered as coaches even though their kids have moved on from the program. And congrats to the brand new teacher who volunteered got suckered into taking the open role of head coach and his trusty assistant coach for making this year possible. And thanks to school for generously funding the program once again finally to all the parents who volunteered to coach events despite fears about not having the time, knowledge or teaching skills to do so. Maybe next year more teachers will get involved.
And now back to my potato kugel.
Like The Maker Mom on Facebook. Subscribe to our monthly newsletter. Follow us on Pinterest and YouTube. Follow The Maker Mom on Google+.