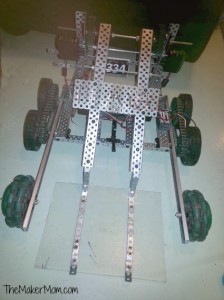 There's so much about this school year's VEX team that I never got around to blogging. The most important bit to share is that late last school year our regional coordinator contacted me to say that teams were starting up at a high school in my area and asked if I'd be interested in mentoring them. I wasn't sure what I'd have to offer, but told him I'd try to help. Though I did give the new coach a gem of advice or two, he and his team wound up serving as amazing mentors to The Makers, my team.
Though last year my team managed along without the pricey (for us, given that we essentially functioned without a budget, with parents chipping in for league registration and tournament fees) official playing field and did well enough, there's no way we could have faked our way through this year's more complex set-up using spare furniture on my basement.
Happily, the high school group let us work in their space, borrow the occasional small part, and provided useful technical advice. Ultimately, we both qualified for the state VEX tournament, which was held last weekend. Last weekend was also the regional Science Olympiad competition, and I lost three of my four team members to that event, but we drafted in a new player in order to compete at State.
In the weeks leading up to the tournament, we'd been scrimmaging with the high school students…and winning. We knew this was largely because their robot was still a work in progress a complicated one, at that, but it was still quite an ego boost for my middle schoolers.
In the end, our mentor/mentee group kicked robotic butt and took names. They came in first place in state! During their final match, the crowd joined in the final 10-second countdown and exploded into cheers when they won. It was quite a thrill.
The Makers placed a respectable 16th out of 30 teams (a mixture of high school and middle school teams).
And you could have knocked me off my rocker when this happened:
The Makers won an award!
The innovate award recognizes robot design. At first I thought they were being ironic when the judges awarded it to us. I mean, there were definitely more interesting and complex robots on the field last Saturday. But then I felt smugly justified. Our straightforward design was not the most creative, but, as the judges noted, it was "simple and efficient." And also, maybe they picked up on the fact that it was clearly created by middle school kids.
Our robot could score up to 12 points in autonomous mode, it was able to toss balls in keeping with this year's "Toss Up" game, it maneuvered over the bump in the playing field, and fit under other field obstacle. It could transport balls to the scoring area and also effectively "de-score" the opposing alliance. It didn't hit the high marks in terms of scoring the highest points, but it was a reliable workhorse. At one point it flipped over and then on its side, but our drive managed to right it and continue on in the match.
As the teams scouted the competition in the pit, I felt as though many of them walked away from our area unimpressed by our bot. "Stress how reliable it is," I coached my boys. "Several of the designs I see are needless complicated and more likely to break down." But your average middle school boy* (and high school, too) is more impressed by pneumatic systems and spinning arms than something as boring as reliability. I'm so glad the judges saw behind that. (Frankly, I'm a bit surprised, too.)
At any rate, I'm totally proud of my team!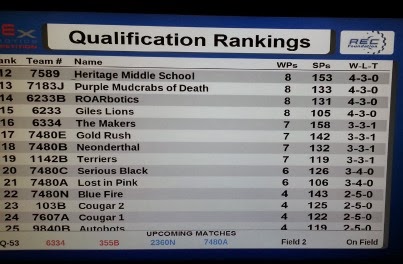 * In my estimate, the boy:girl ratio was even higher here than at past tournaments. Though the second place team was the only all-girl team around. If I continue on with VEX, it will likely be with an all-girl team.

Like The Maker Mom on Facebook. Subscribe to our monthly newsletter. Follow us on Pinterest and YouTube. Follow The Maker Mom on Google+.