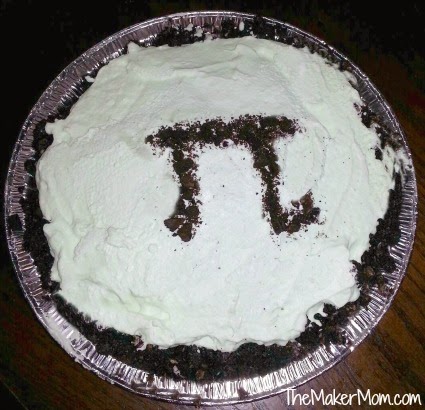 Having not actually tasted this pie in decades, I made a test
for Pi Day.
Grasshopper Pie was mentioned at a recent entomology practice. "Are there really grasshoppers in it?" the girls inquired. "No, but there is alcohol." Their eyes widened. Growing up, Grasshopper Pie was a party fixture in my house. When it was my parents' turn to host the friendly poker (for the men) and mah jong (for the women) meetup, a pie was made. Once in a while, my dad made a double-layer German chocolate cake, too.
I told the girls that if they earned a medal at the regional competition, I'd make a Grasshopper Pie to celebrate. They came in first place! They are bright, motivated, hard-working girls. They show up to practice and do their assignments in between. We also had a 2+ hour visit with the knowledgeable Jim Louderman, an entomologist at Chicago's Field Museum, reviewing members of all of the 30 required insect orders that could be on their exam (plus a few more). One of their moms arranged the trip.
My point is it's not my masterful coaching or knowledge of the insect world (I have little!) that led to their victory. The success is all theirs.
But I can help celebrate.
After peeking around online for recipes, I felt nostalgic and called my mom for her recipe.
Wow, I don't think I've ever made anything this void of nutrition, but a promise is a promise.
I did use reduced fat Oreo cookies in the crust and cut down the butter by 1/3, but still, this is chock full of useless calories. Also, in between having to purchase creme de menthe (which I could only find in a large, $13 bottle), marshmallow fluff, said Oreos, and cream, it was more expensive to make than an apple pie. On the other hand, I'll be drinking spiked hot cocoa all next winter, which will be handy if it's anything like this one.
Here's mom's recipe snipped from an email.
Kim's Mom's Grasshopper Pie Recipe
Creme de Mint or Creme de Cocoa buy smallest bottle possible. Cool beaters in refrigerator.
Crush 24 Oreos in plastic bag with rolling pin or glass. (I covered the bag with a towel and used a meat tenderizer.)
1/4 lb butter plus 6 tablespoons, melt add to Oreo crumbs
When mushy pour into pin tin and flatten around and up the sides a bit.  Place in refrigerator for 1 hour to harden. When hardened add whipped cream and fluff mixture.
1 full pint of whipping cream cold
7 oz marsh-mellow fluff in large bowl
1/4 cup Creme de mint add to fluff
Beat whipped cream in cold bowls until spoon stands up in peaks or stiff. After whipping cream is whipped, fold fluff gently into whipped cream.
When done put in freezer for 1 hour