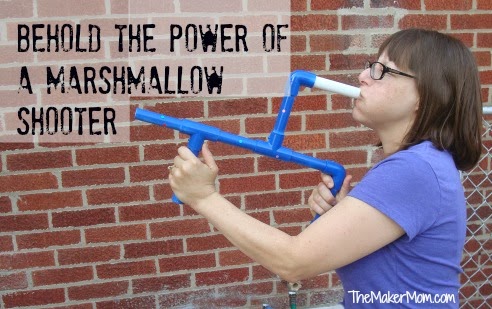 Behold the power of a marshmallow shooter. After President Obama blasted a marshmallow across the White House dining room on young Joey Hudy's homemade extreme marshmallow blaster at the 2012 White House Science Fair he was hooked. Thirteen-year-old Joey's personal credo, "Don't be bored. Make something."* not only struck a chord with the dad of two and leader of the free world, it moved him to action. In 2014 the White House is going to host a Maker Faire!
White House Maker Faire
Joey will be back at the White House (you may have seen him near the FLOTUS at the recent State of the Union speech. I think this kid is basically setting national policy now.) and this time he'll be accompanied by a whole lot of maker friends.
The date has not yet been announced, but the excitement is already building. You and your kids should get building, too!
The folks at the White House want to know how you, yes you, are advancing the Maker Movement. Drop a note, pictures or videos to maker@ostp.gov or use the hashtag #IMadeThis** on Twitter to share your creations!
You don't need fancy tools, expensive materials or even a lot of space to help your kids start making. Read my tips for starting a basic makerspace in your home, regardless of its size.
White House blog post announcing the Faire is an inspiring read, laying out the President's Maker philosophy. He gets it. He's down with how Making fosters innovation and entrepreneurship. He totally understands the link between Making and STEM! I hope this helps others understand that they are two sides of the same coin.
The White House honored Dale Dougherty, a man who shaped
the  Maker  Movement, and Dale honored me with a photo.
I love that the Obama administration promises to provide more students and entrepreneurs access to the "tools, spaces, and mentors needed to Make," and advocates for college admissions officers to let potential students present Maker Portfolios. Side note: I followed the WH link to an MIT admissions page where they mention applicants can include portfolio projects like new new origami designs or a potato cannon.
Which brings me back to marshmallow shooters. Having started with a marshmallow shooter kit provided by Make, my boys and I then bought our own PVC and made even more from scratch. When I bring my box PVC pieces to the local farmer's market for a Maker Mom Morning, I typically have a model assembled. At first, the kids automatically replicate my design and shoot a few mini-marshmallows. Then they get curious and they start asking What if? What if I make this part longer or that part shorter? Why do I need this extra piece? They cast my starter design aside and strive to make something of their own.
Light bulbs go off and the energy changes as the kids become makers, scientists***, explorers, hackers!
Behold the power of a marshmallow shooter.
* I say something very similar to my kids. Often. Maybe now they'll listen.
** Here's hoping people use this in the spirit with which it was intended.
*** It's the same philosophy we use on the Bedtime Math blog–make stuff and you'll inevitably use math!
Like The Maker Mom on Facebook. Subscribe to our monthly newsletter. Follow us on Pinterest and YouTube. Follow The Maker Mom on Google+.